Rook van Zugzwang reports from Wijk aan Zee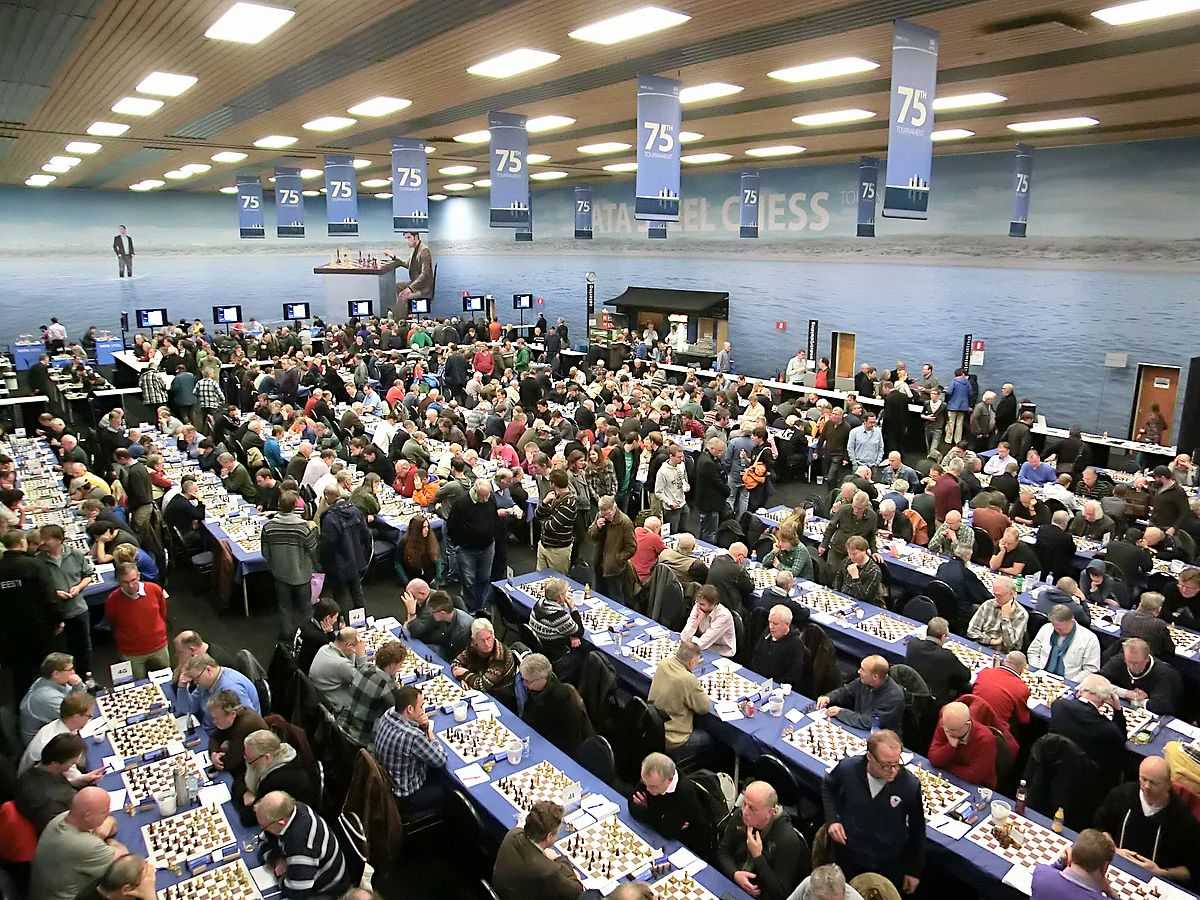 Welcome to my home town, Wijk aan Zee, and to the Tata Steel Chess Tournament, the biggest and best in the world. For those of you unfamiliar with Wijk, it is a coastal town about 44 km from Amsterdam  and my English friends say it is a little like Broadstairs but with better chess players. At least, that is certainly the case at this time of year when players and spectators from all over Europoe descend upon our little town. Most of those are 'amateurs' but the main interest is on the 28 players who take part in the two main competitions, the Challengers and the Masters.
We are constantly told that chess is a young person's game and a glance at the entrants for both competitions will bear this out. You may be unfamiliar with the van Foreest family but they are well known in the Netherlands and GM Jorden van Foreest (19) plays in the Masters while his bother, Lucas, also a grandmaster at 17, plays in the Challengers. If you think that is young, the Challengers also features IM Vincent Keymer (14) and GM Rameshbabu Praggnanandhaa, who is not 14 until August! At the other end of the scale is GM Evgeny Bareev who at 53 is old enough to be their grandfather. All chess players know that it is no fun playing juniors so imagine how Bareev must have felt as he faced a young whippersnapper like van Foreest in Round 3.
White:  Lucas van Foreest (2502)      Black:  Evgeny Bareev (2650)
Tata Steel Challengers 2019 Round 3
So what about the Masters, you may be asking. Well, it's tight at the top and after eight rounds there is only half a point separating the leading five players. Ominously, after his run of 21 successive draws, Magnus Carlsen is beginning to strike form at the right time, winning three of his last four games to move into joint first place. We are pinning our hopes on Anish Giri, who plays Carlsen in the final round. In the meantime, let's raise a cheer for the oldest player in the tournament, Vishy Anand, appearing at Wijk aan Zee for the 19th time. Vishy will be 50 this year yet he remains in the world top ten and currently shares the lead with Carlsen whom he plays in Round 10. Like Carlsen, he has won three games and drawn the rest but victories in his last two games suggest that momentum is with him. Anyone who can dispatch the world number three in 29 moves as Vishy did in Round 8 today cannot be discounted as a potential tournament winner.
White:  Viswanathan Anand (2773)      Black:  Shakhriyar Mamedyarov (2817)
Tata Steel Masters 2019 Round 8
And what about the Game of the Tournament so far. Well, for many it is this swashbuckling effort from Teimour Radjabov in Round 7. After the game the two players discussed it at length and their analysis was recorded by organisers. Enthusiasts – the discussion went on for 35 minutes – can find it either on the Tata Steel site, Chess.com or YouTube.
White:  Teimour Radjabov (2757)      Black:  Santosh Gujrathi Vidit (2695)
Tata Steel Masters 2019 Round 7
Congratulations to the Mick Croft Cup team in winning Broadstairs' second trophy of the season with their fine win on Monday. As John's report makes clear, it was a tense occasion with two evenly matched teams.  At 1-0 down, the next result was crucial. If Woodnesborough won that game, Broadstairs would have to take at least two and a half points from the remaining three games to win the trophy. Paul Johnson's game looked like being the next to finish and the rook and pawn ending was far from easy. As spectators gathered around the board, full credit to Paul for holding his nerve and winning this vital game that proved to be the turning point in the match.
Mick Croft Cup Final v Woodnesborough  
White:  Raj Sookhurry (e110)      Black:  Paul Johnson (116)
                                                 Broadstairs  3        Woodnesborough   2 
| | | | |
| --- | --- | --- | --- |
| 1 | Shani Rezvany  (163) | 1-0 | Harry Sharples (144) |
| 2 | Richard Clement (129) | 1-0 | John Thorley (140) |
| 3 | Chris Stampe (124) | 0-1 | William Grummitt (133) |
| 4 | Paul Johnson (116) | 1-0 | Raj Sookhurry (e110) |
| 5 | Michael Doyle  (91) | 0-1 | Mark Towlson (94) |
Grade totals:                          623/625                                            621/625
John Couzens reports:
So we made it to the final after a  spell of eight years in the Mick Croft Cup wilderness!
My first choice team were all available so I had high hopes of a good result (no cannon fodder needed this time)
Woodnesborough at home ….. Come on!
Harry's boys showed up and my confidence took a bit of a knock when I saw John Thorley (140) was on board two, William Grummitt (133) on board three, Raj Sookhurry estimated at 110 on board four (we all know how estimated grades can differ from real grades!) and Mark 'Thanet Congress king' Towlson 94 on board five….
mmmmmm not going to be as easy as I'd anticipated
My expectations took another hit when after 20 moves Michael 'reliable' Doyle lost his queen for nothing!
Soon after he gave up his rook, resigned and went home. (We missed you in Cramptons, barmaids and all – come back soon!)
The other four boards all looked equal for ages, then Chris hit a central brick wall and lost the exchange
John Thorley offered Richard a draw (declined) and Paul's game looked like drawing too
Looking good for the visitors
Then Paul dug deep and finished a tense endgame, forcing Raj to resign
Shany was pushing Harry hard, won a knight and eventually Harry had to resign
2-1 up
All we need now is a draw from Chris or Richard and the Cup would be ours (with a drawn match, the bottom board result is eliminated -Ed)
Then Richard 'Cliff Thorburn' Clement finally ground poor old John Thorley into submission
The cup was ours!
Small consolation for Woodnesborough as William finished off Chris in the final minutes
Final score 3-2
Well done, Broadstairs superstars!
The Tata Steel Chess Tournament which begins tomorrow (Jan 11) is one of the biggest events in the chess calendar. This year is the 81st tournament and although its name has changed in that time, it has always been held in the Dutch town of Wijk aan Zee. It regularly attracts the best players in the world – Magnus Carlsen will be playing for the fifteenth time – and six of the world's top ten players will be competing this year. The second seed behind the world champion is the Azerbaijani, Shakhriyar Mamedyarov, known throughout the chess world as Shakh. He is the current world number three and for those who think Carlsen is unassailable these days, it is worth noting that he and Shakh met nine times last year in all formats with Carlsen only winning once and that was in a blitz tournament. Here is Shakh's neat victory over the champion at Biel in the summer where he finished clear first by one and a half points.
White:  Shakhriyar  Mamedyarov (2801)      Black:  Magnus Carlsen (2842)
 Biel International Chess Festival 2018 
The average ELO rating in the Masters Tournament is 2753 and there is also a Challengers Tournament where the average is 2580. Both sections have fourteen players. The website  
http://tatasteelchess.com
 has all the information you need and a lot more. The archive is worth a look – it provides details of the most games played (of current players, Vishy Anand 221) and the highest win percentage. Of this year's competitors it is not Carlsen but Ding Liren with 63.46% so perhaps he is worth a punt if you are a betting person. One curious feature of the Masters Tournament is that for the past six years it has gone 'on tour' with two of the rounds taking place in alternative venues to Wijk aan Zee. This year Round 5 will take place in Alkmaar (see below) and Round 10 in Leiden.

In addition to the two major tournaments, there are also several events for those mere mortals quaintly described on the official site as 'amateurs'. These tournaments attract thousands of entries. Finally there is the Tata Steel Chess Festival on January 19-20 and if you can understand Dutch, there is more information
here
  (I couldn't find a translate button). The Masters gets under way on Saturday and there will be updates on this site from our Dutch correspondent, Rook van Zugzwang.
Here is a heavyweight clash for Game of the Week: numbers two and three in the club championship. Imagine Man City v Spurs.  Thank you to Trefor for sending this in. He modestly claims in his email that he is 'not sure it qualifies as Game of the Week but the finish was quite nice'.  As we are becoming accustomed to seeing with Trefor's games, his notes are a welcome addition and explanation to the game.  Don't hold back if you think you have a game that is worth sharing with a wider audience. I suspect players are too modest to send them in but please do so – they are often much better than you think.
White:  Trefor Owens (167)      Black:  Shany Rezvany (163)
 Goodall Cup (Broadstairs Club Championship)