This month David Horton celebrates fifty years as a member of Broadstairs Chess Club and for most of that time he has played on Board 1 in league competitions. To commemorate this notable achievement the club decided to turn what would have been a normal club night into a special occasion with speeches, a presentation, champagne and a simultaneous display given by David himself.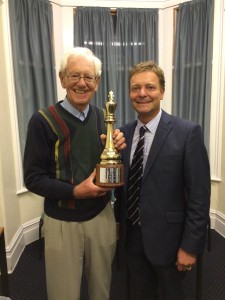 Guest for the evening was Craig Mackinlay, MP for Thanet South, who gave a generous speech praising David's long-standing efforts for Broadstairs and listing his many roles in the club from auditor to club president, a role he still maintains to this day. Apart from his work for the club, David also served as Chairman of the Thanet Chess League and was one of the instigators of the Thanet Chess Congress for which he also acted as controller for many years. David was then presented with the splendid trophy you see in the photo which was made by John Couzens.
David replied with a few words about some of the players he remembered from those distant days, names that still resound in some of the club's trophies: George Stiggers, Alek Zielinski, Jan Kowalczyk and Col. Knox. After the presentation and speeches there was time for more champagne and canapes before the simul began at about 8.00.
When it was first suggested to David that he might consider playing a simul against the other members of the club, he probably did not think that eighteen players would turn up but they did, including Mr. Mackinlay and a potential new member who appeared on the off chance, stayed for the evening and won his game. Congratulations to all the winners, especially to father and son, Viktor and Timofey Selyukov.  Viktor was the lowest-graded player to win against David, and Timofey, aged ten, was the youngest. Sadly, the list of winners did not include Mr Mackinlay, who was checkmated thereby preventing us from using the headline 'MP resigns'.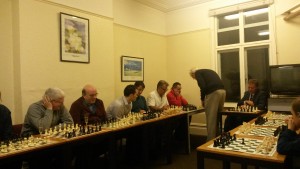 Simultaneous displays can take a long time so in order to speed things up David had already stipulated that there were to be no passes! This did not prevent a few desperate players from offering draws which David invariably declined although he did concede two to Alan Gosman and Ian Hames. He clearly felt it was not an evening for draws and he was too much of a gentleman to accept David Faldon's generous offer when in a distinctly more favourable position.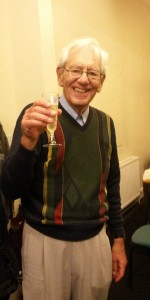 Eventually, the eighteen became four then two and finally, after Paul Carfrae completed his victory at about 10.15 it was over and David received a well-deserved round of applause. There was just time for everyone to retire to the pub to conclude what had been a memorable evening. Many thanks to David Horton for his mammoth simul, to Craig Mackinlay, who promised to pop in again in the future – we'll hold you to that, Craig – and to all those who made the evening such a success and show why Broadstairs is very fortunate indeed to have so many loyal and enthusiastic supporters. As David said in his speech, 'Here's to the next fifty years!'