The Tata Steel Chess Tournament which begins tomorrow (Jan 11) is one of the biggest events in the chess calendar. This year is the 81st tournament and although its name has changed in that time, it has always been held in the Dutch town of Wijk aan Zee. It regularly attracts the best players in the world – Magnus Carlsen will be playing for the fifteenth time – and six of the world's top ten players will be competing this year. The second seed behind the world champion is the Azerbaijani, Shakhriyar Mamedyarov, known throughout the chess world as Shakh. He is the current world number three and for those who think Carlsen is unassailable these days, it is worth noting that he and Shakh met nine times last year in all formats with Carlsen only winning once and that was in a blitz tournament. Here is Shakh's neat victory over the champion at Biel in the summer where he finished clear first by one and a half points.
White:  Shakhriyar  Mamedyarov (2801)      Black:  Magnus Carlsen (2842)
 Biel International Chess Festival 2018 
The average ELO rating in the Masters Tournament is 2753 and there is also a Challengers Tournament where the average is 2580. Both sections have fourteen players. The website  
http://tatasteelchess.com
 has all the information you need and a lot more. The archive is worth a look – it provides details of the most games played (of current players, Vishy Anand 221) and the highest win percentage. Of this year's competitors it is not Carlsen but Ding Liren with 63.46% so perhaps he is worth a punt if you are a betting person. One curious feature of the Masters Tournament is that for the past six years it has gone 'on tour' with two of the rounds taking place in alternative venues to Wijk aan Zee. This year Round 5 will take place in Alkmaar (see below) and Round 10 in Leiden.

In addition to the two major tournaments, there are also several events for those mere mortals quaintly described on the official site as 'amateurs'. These tournaments attract thousands of entries. Finally there is the Tata Steel Chess Festival on January 19-20 and if you can understand Dutch, there is more information
here
  (I couldn't find a translate button). The Masters gets under way on Saturday and there will be updates on this site from our Dutch correspondent, Rook van Zugzwang.
Here is a heavyweight clash for Game of the Week: numbers two and three in the club championship. Imagine Man City v Spurs.  Thank you to Trefor for sending this in. He modestly claims in his email that he is 'not sure it qualifies as Game of the Week but the finish was quite nice'.  As we are becoming accustomed to seeing with Trefor's games, his notes are a welcome addition and explanation to the game.  Don't hold back if you think you have a game that is worth sharing with a wider audience. I suspect players are too modest to send them in but please do so – they are often much better than you think.
White:  Trefor Owens (167)      Black:  Shany Rezvany (163)
 Goodall Cup (Broadstairs Club Championship) 
                                             Broadstairs   2½      Margate 1½                      
| | | | |
| --- | --- | --- | --- |
| 1 | Bob Cronin (103) | 0-1 | Leon Garfield (102) |
| 2 | Reg Pidduck (101) | ½-½ | John Clarke (98) |
| 3 | Michael Doyle (91) | 1-0 | Roy McAloney (86) |
| 4 | Michael Jenkinson (78) | 1-0 | Cameron Plater (49) |
Capt Mike Doyle writes:
To stay in the running for Walker Shield, we had to beat Margate who had won both their matches. Captain Mike was the first winner against a tricky opponent. He finished a pawn up and Roy resigned before the pawn changed to a queen. Our next winner was Michael Jenkinson, who on the 14th move took his opponent's queen with a rook: 2-0. It was hunky-dory until then but then came a blow – Bob lost to a formidable opponent in a tight game: 2-1. It was then down to Reg who was last to finish. He was up against John Clarke, who had one or two tricks up his sleeve.  It all came down to a white rook and knight against a rook and bishop. In the end a draw was agreed and Broadstairs won 2½-1½. Well done, boys! We are second in the league now and that's a winning start to the New Year. Next on our calendar is Bridge at home. Go for it!
With yesterday being the twelfth day of Christmas, this seems like a good time to look forward to 2019 and see what is in store. The Thanet League has reached the mid-point stage of the season so it is worth a look to see how the Broadstairs teams stand. Tomorrow (January 7th) the Walker Shield team resume their campaign with a crucial home match against Margate. A glance at the table below shows how important this is. Our team is quite strong but one reason for its modest start is that seldom has the club been able to field its best team. Couple that with a four-player format where one error can prove decisive and a 2-2 draw can easily become a 2½-1½ defeat. However, there is still some way to go and a victory tomorrow would make a huge difference. Here is the current position:
Compared with the busy season enjoyed by the Walker Shield team, the Hargreaves Shield players have had few opportunities to display their talents. What began as a four-team competition was soon reduced to three when Woodnesborough withdrew almost before the season had started. Nevertheless, with two wins from two matches, the Broadstairs team are in a strong position to retain the trophy won last year. The two remaining matches are Bridge (away) on January 29th and Folkestone (home) on March 4th. Here is the current table:
The situation with the Millar Cup is perhaps the most intriguing. For many years in this competition Broadstairs have been not so much the bridesmaids but more like the  pageboys (appropriately) bringing up the rear and holding up the bride's lengthy train.  However, the fortuitous and indeed fortunate arrival of several new members this season has suddenly galvanised the team and a narrow defeat to Folkestone was followed by the first win over Bridge in living memory. A second win against Margate leaves Broadstairs in silver medal position at the half-way stage. The return fixtures against Folkestone (January 21st) and Bridge (April 29th) will be crucial as the latest table shows:
| Team | Play | Won | Draw | Lost | For | Against | Points | SP | MP | IM |
| --- | --- | --- | --- | --- | --- | --- | --- | --- | --- | --- |
| Folkestone | 2 | 2 | 0 | 0 | 9½ | 4½ | 4 | 0 | 0 | 0 |
| Broadstairs | 3 | 2 | 0 | 1 | 12 | 9 | 4 | 0 | 0 | 0 |
| Bridge | 3 | 1 | 0 | 2 | 12 | 9 | 2 | 0 | 0 | 0 |
| Margate | 2 | 0 | 0 | 2 | 1½ | 12½ | 0 | 0 | 0 | 0 |
The Mick Croft Cup, named in honour of the man who did so much for Thanet chess over many years, reaches its conclusion next week (January 14th) when Broadstairs play Woodnesborough in the final at home. Five players make up a team where the total grade must not exceed 625 so an average of 125 per board is the maximum allowed. Broadstairs has won the competition before but not for a while. John Couzens is in charge of the team and he will be scratching his head and polishing his selection over the next few days.
Mick Croft was one of the prime movers behind the instigation of the Thanet Chess Congress in 1970. The event of the year for local players will therefore be the 50th Thanet Chess Congress in August. Plans are already underway to include a few special prizes and we are hoping for a suitably large turnout. It is also hoped that some of those who played in the first congress will be able to play again. Watch this space for further information. The congress will take place from Friday August 16th – Sunday August 18th and the official website will be up and running in March.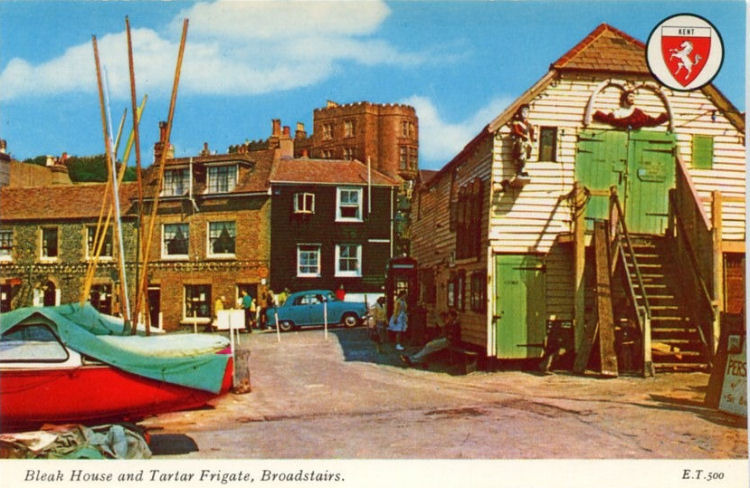 This postcard of Broadstairs harbour was probably produced sometime in the 1960s to judge by the Ford Poplar in the background and the clothes of the few discernible people. Other than that, little has changed between then and now: Bleak House still towers over the harbour, the boathouse – the most photographed building in Thanet – is still there (as is the telephone box) and the Tartar Frigate on the far left of the picture is still serving drinks and fine food as it has done for hundreds of years. Mirroring this tradition, little has changed in the habits of Broadstairs Chess Club when it come to choosing a venue for the annual Christmas Dinner. No-one can be certain without checking the archives when the dinner was first held but it was probably in the early 1990s. There were a couple of occasions when we were daring and tried other restaurants – the Royal at Ramsgate and the Fayreness in Kingsgate Bay spring to mind – but we always came back to the Tartar Frigate. This year was no exception and as usual most members met in the Charles Dickens pub overlooking Viking Bay before strolling down to the harbour for the meal.
The Christmas Dinner is one of the club's highlights of the year. Although many members adjourn to Cramptons at the end of a weekly club night, not everyone can so this is an occasion for everyone – or almost everyone – to get together over a drink and a meal and to chat about anything and everything although the latter might not be quite true as the word 'Brexit' was not heard once by this writer. The meal is subsidised by the club so it is a way to give something back to the members who have contributed to it throughout the year. This time it was also an opportunity to welcome several new members to the club. Richard Clement and Trefor Owens were unable to attend but for Shany Rezvany, Chris Stampe, Gary Hilleard, Paul Johnson and Arnaud Wisman, this was their first Broadstairs Christmas Dinner, resulting in a very healthy eighteeen members taking their seats which must be a record. The food was delicious as always and if you fancy paying a visit before Christmas, I recommend the wild mushrooms on a toasted ciabatta cooked in garlic cream as a starter.
It would not be a Broadstairs dinner without a quiz, of course. In the early days this always seemed to be chess-based but in recent years all sorts of random topics have formed the basis of the questions and this year was no exception. Michael Jenkinson produced a quiz based on the English Channel and the lands either side. Sample questions to test friends and family over Christmas included some that would definitely qualify as general knowledge e.g. 'Who was the first man to swim the English Channel?' and 'When did the news of Wellington's victory at Waterloo reach Broadstairs?' but others fell into the obscure bracket. 'How long has the English Channel existed in its present form?' (approximately 8,000 years, apparently) or 'When did commercial hovercraft operations commence from Ramsgate?' (1966). Then there was the occasional trick question: 'When was the first flight by man across the Channel and who did it?' Well, many people remembered Louis Blériot from their schooldays – not personally – and it was just a case of getting the year right. No, said the quizmaster, the first flight was by balloon in 1795 by Jean-Pierre Blanchard and John Jeffries! Not surprisingly, with the quizmaster seemingly reluctant to award any half-marks, out of approximately twenty available marks, the winning total was six. I don't think Broadstairs Chess Club will be raising a team to take part in the next series of Only Connect but it was enjoyable and we thank Michael for taking the time to produce the quiz and provide a very generous prize of a bottle of whisky to the winner.
And so, as the evening drew to a close and those with longer journeys drifted homeward, a few hardy souls retired to the Dolphin for a final drink and to reflect on a great evening and to look forward to 2019 and the 50th Thanet Chess Congress for which preparations are already under way. For Broadstairs Chess Club there is now a short break for the festive period and we re-group on Monday January 7th with another chance for the Walker Shield team to make a mark on this year's competition. Echoing Michael's wishes in the last post, we wish you all a Merry Christmas and a Happy New Year.