Draws seldom feature in Game of the Week which is hardly surprising. Great games usually feature one player's brilliance overcoming a plucky opponent. It is less common to see a game where both players appear to swap winning chances almost with alternate moves before running out of steam and finally agreeing a draw with nothing left. This week's game comes from the European Individual Championships which began on Monday in Skopje. England's sole representative is James Jackson, who finished runner-up to Marcus Harvey in last month's Kidlington Chess Congress which was featured here. As is pointed out on P.48 of the current (March) edition of Chess magazine, the final outcome of that congress might have been different had Jackson spotted his winning chance in the drawn game he played against Harvey in Round 3. There is  £100,000 prize pot in the European Championships with £20,000 going to the winner. The first 22 players will qualify for the next World Cup. However, there are 361 competitors. Jackson (seeded 228) currently stands on 1½/3 and in the first round he was paired against the Croatian GM Zdenko Kozul (seeded 49) who won this event in 2006. Fasten your seat belts and hold on tight.
White:  Zdenko Kozul (2619)   Black:  James Jackson (2377)
World Team Championship 2019 
England's achievement in finishing second in the World Team Championship is even more impressive when one considers that most members of the team suffered from various degrees of illness during the tournament. In the match against Iran the first reserve, Jonathan Speelman, played on board 4 instead of Gawain Jones who was too ill to play. What is less well known is that Speelman himself was also unwell but he played because he was less unwell than Jones. The fact that the veteran Speelman was playing at all is a reflection on the difficulty the England captain Malcolm Pein had in raising a team at such short notice as he explained in his interview. Michael Adams' disappointing tournament is partly attributable to his not feeling 100% but he did manage to win a crucial game in the Iran match after Speelman's early defeat. His opponent was Parham Maghsoodloo, winner of the World Junior Championship last year and featured on this site (click here). From 1-0 down, England fought back to win 3-1 which provided the springboard for their late surge to silver. Malcolm Pein described this as 'a great win'. See what you think.
White:   Parham Maghsoodloo (2673)     Black:  Michael Adams (2708)
World Team Championship 2019 
                                       Broadstairs  6        Margate   1
| | | | |
| --- | --- | --- | --- |
| 1 | David Faldon (175) | ½-½ |  Peter McGill (149) |
| 2 | Shany Rezvany (163) | 1-0 |  Harry Sharples (144) |
| 3 | Bob Page (142) | ½-½ |  Colin Gregory (118) |
| 4 | Paul Carfrae (141) | 1-0 |  Leon Garfield (142) |
| 5 | Richard Clement (129) | 1-0 |  John Clarke (98) |
| 6 | Chris Stampe (124) | 1-0 |  Michael Davies (89) |
| 7 | Michael Doyle (91) | 1-0 |  Roy McAloney (86) |
David Faldon writes:
For once, a match went our way from the start. Michael won a piece right in the opening, Richard won some pawns and Paul got an early kingside attack despite playing with the black pieces. Yes, the other games were close, but for a change being team captain added no stress to my main job, winning my own game. That I failed to do, though, thanks to excellent play from my opponent. I messed up in the opening (as usual) but then steadily improved my position until I felt confident I had good chances to win. My opponent, Peter, defended splendidly, however, until I was forced to take the draw despite still being a pawn to the good. By then we were already 5-0 up from the other games. Michael, a late substitute on board 7, kept the pressure on after his early win of a piece and was first to finish. Richard on board 5 seemed in control throughout and was second to score. Paul on board 4 chalked up our third win after successfully countering some late tricks from his opponent. Our other two winners, Shany on board 2 and Chris on board 6, both won what looked to me to be smooth positional games with the black pieces. Just what a team captain wants: his player pushing to win all the way with almost zero chance of a loss. Nice. The last game to finish wasn't quite so smooth, but Bob on board 3 eventually made a hard-fought draw after dropping a rook for a knight in a complicated middle-game. Overall a very good result for us: five wins and two draws. Many thanks to Margate for being such cheerful hosts and for providing all the tea and biscuits.
Congratulations to the England team on achieving a silver medal in the World Team Championship which concluded in Astana today. With two rounds remaining, there were hopes of a gold medal but while Russia maintained their position in first place with a win over Sweden, England lost 3-1 to China so a silver was the best we could hope for. That still depended on results in the final round and what drama there was….England were in third place on board points going into their last match but faced potentially easier opponents in Sweden whereas India had to play Russia. A win for England would secure second place unless India beat the hitherto unbeaten Russians.
First to finish for England was David Howell who had an excellent tournament, winning and drawing four and losing only to our good friend Wei Yi in the penultimate round. Howell gained a small advantage early on and built on that. After 39…e4?, while the game was already lost, Howell now had mate in 7 but after 40. Bxg7 Kg8?? it was mate in one which I guess you don't often see at the top level.
White:   David Howell (2693)     Black:  Axel Smith (2487)
World Team Championship 2019 
Michael Adams finished on 3½/9, disappointing by his standards but he was after all on board 1 and therefore always playing the strongest opponents. His game was level for a long time but after 32…e5 he was 'much better' and six moves later he was 'winning' and he duly won after 47 moves. Gawain Jones on board 4, like Howell also had a very successful tournament with only one defeat in the match against India. He was ahead from an early stage in his game today and the way he converted a slight advantage of an extra pawn but with opposite coloured bishops into a winning position is a lesson to us all.
White:   Linus Johansson (2479)     Black:  Gawain Jones (2681)
World Team Championship 2019 
On board 2 Luke McShane had an excellent tournament, finishing unbeaten with three wins and six draws. His final game was equal for a long time, especially after most of the major pieces were exchanged. In the final position he was ahead but a draw was sufficient once a 3-0 lead was established and a win for England confirmed. What was especially impressive was that McShane had made the long journey to Kazakhstan from Germany where he had recently been playing in the Bundesliga. After Round 4 he gave an interview to the tournament organisers in which he explained how much he was looking forward to the rest day!
McShane's draw gave England a convincing 3½-½ victory but second place was not yet confirmed. After draws on boards 1,2 and 4, India needed to win their last game to beat Russia. No doubt it would be doubly satisfying for Jones if Alexander Grischuk could hold out for at least a draw because his opponent was S.P.Sethuraman, who beat Jones in the England-India match. Having won a pawn early on, Grischuk appeared to be in a strong position. As the clock ticked away, however, he seemed to be making little progress but a draw would be enough for England. He then sacrificed his extra pawn and after 60…Re7 he was winning.  As with the other games, converting a winning position into victory was a masterclass in endgame play and Sethuraman resigned after 85 moves. Defeat for India was doubly disappointing as a win for China enabled them to overtake India and so the team which had hopes of a silver medal with one board to go could only finish fourth. One suspects that the entire English team must have queued up to shake Grischuk by the hand.
White:   Alexander Grischuk (2771)     Black:  S.P.Sethuraman (2637)
World Team Championship 2019 
A silver medal in the World Team Championship is a tremendous achievement for England and it is to be hoped that it is given the acknowledgement it deserves. Apart from the players – and that includes Jon Speelman as reserve – Malcolm Pein, who has done so much for British chess in recent years with the emergence of the London Chess Classic and the Chess in Schools and Communities initiative, deserves enormous credit for managing to raise so strong a team in such a short space of time. During the tournament he gave an interview to the organisers in which he touched on the difficulties England faced.
Once again, congratulations to all involved and it will be interesting to see what publicity England's performance receives and whether it has any effect on promoting chess in this country and, most important of all, gaining financial support.
Stop Press: England also won three individual medals – McShane Gold, Howell Silver and Jones Bronze. Well done, indeed!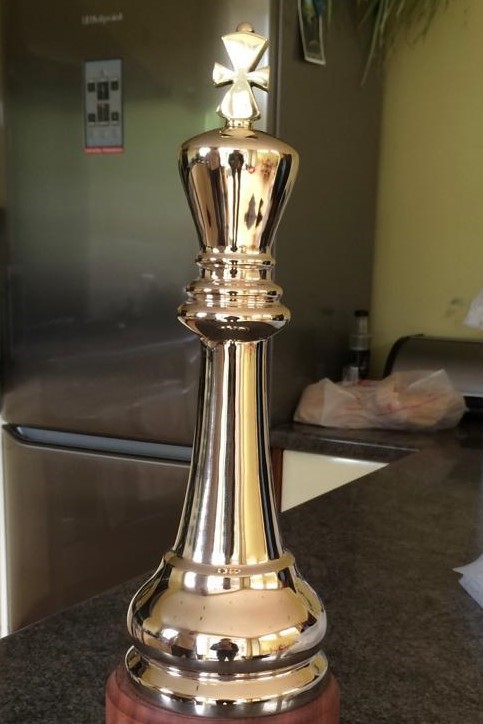 This magnificent trophy is one of five made by John Couzens as part of the celebrations for the 50th Thanet Chess Congress that takes place this summer from Friday August 16th to Sunday August 18th. One will be awarded to the winner of the each of the five sections and will be the winner's to keep. For a golden anniversary it is fitting to have an (almost) gold trophy and this six-inch solid brass king is a unique prize that won't be repeated for another fifty years. And for those pedants who say five trophies cannot be unique, it is nonetheless true because each one will be engraved with the name of the section so all five are different and, indeed, unique. To win one of these trophies all you have to do is go to the congress website www.thanetchesscongress.co.uk and enter online….oh, and then you have to turn up and play well.
We are hoping that some of those who played in the first congress in 1970 will return and a few have already announced that they will be playing which is excellent news. If anyone reading this knows someone who played in that inaugural Thanet Congress, please draw their attention to this and even if they are no longer playing, it would be wonderful for them to come and meet others who played to exchange stories and renew acquaintance.  We have all the results of the first congress together with a few photos and press cuttings and these will be on display for all to see.
Entry in 1970 was £1 for adults and 10s for U17s and the first prize in the Premier was £30 which was a tidy sum and while we can't promise a first prize of thirty times the entry fee this year, £350 is still a worthy reward. The titles of SCCU Champion and Kent Open Champion are up for grabs for those who are qualified and there is also, of course, a unique gold(ish) trophy that even Magnus Carlsen could never win – unless he enters the congress, of course, and even then he has to come first. Entry is free for GMs and IMs so if Magnus wants to enter it won't cost him a penny.
All the information can be found on the congress website and it is advisable to book early.