Things have been fairly quiet on the congress front but for those waiting with baited breath, I can confirm that the 2016 Thanet Congress is going ahead as usual: same venue, same weekend, same people running it although for this we need to be especially grateful to the Thanet League chairman, Alan Atkinson, who is standing in for the usual controller, Kevin Thurlow, who received an offer he could not refuse elsewhere.  Can you believe it? A better offer than running the Thanet Congress!  Well, I never. Next thing we'll be told that Iceland could beat England at football…..
If you would like an entry form, they are available if you follow this link and click on 'entry form':
http://www.englishchess.org.uk/event/47th-thanet-chess-congress-and-kent-individual-championships/?instance_id=1024
Online entry should be available soon via the Thanet Chess website http://www.thanetchess.org.uk/.
In the meantime, here to whet your appetite is Andrew Greet, last year's Open champion, winning his Round 3 game with a neat finish. After the game, Andrew wrote that following White's 25th move 'Black could have resigned, but John sportingly allowed me a pretty finish. I must have been about seven years old when I first learned the smothered mate but this was the first time I was able to play it over the board!' 
White: Andrew Greet (237)           Black: John Anderson (214)
Thanet Congress 2015
The Shamkir Chess Tournament reached a sensational climax today with the Azerbaijani GM, Shakhriyar Mamedyarov, taking first place following a tie-break with the top seed and long-time leader, Fabiano Caruana. 'Shak', as he is known to his fans, had a memorable last few days, beating Caruana and Anish Giri in his last two games to force a tie-break with Caruana, whom he beat 2½-1½. Here is the decisive win against the world number two that began his great finish.
White: Fabiano Caruana (2804)           Black: Shakhriyar Mamedyarov (2748)
Shamkir Chess 2016
The Shamkir Chess 2016 international chess tournament is dedicated to the memory of late Azerbaijani grandmaster Vugar Gashimov. Held in Shamkir, Azerbaijan from May 25th to June 5th, the tournament is a 10 player round-robin with a total prize fund of €73,000 and €15,000 for first place. Top seed is Fabiano Caruana and extra spice is added with the inclusion of Anish Giri and World Championship contender, Sergey Karjakin. Caruana has begun impressively and currently leads on 4½/5 and a performance rating so far of 3096.  This game played today shows the sort of form he is in and illustrates why he is the world number two.
White: Fabiano Caruana (2804)           Black: Teimour Radjabov (2726)
Shamkir Chess 2016
Bob Page writes:
The Jamboree is a traditional end of season competition in which as many Thanet teams as possible play one game against each other with pairings mixed between the teams. Individual results are then added together to find a winning team. In recent years Thanet competitions have been poorly attended.  This was apparent at the Team Buzzer and only four of the seven clubs entered the Jamboree.  Naturally, everyone would like to win and it is possible that some clubs may take the view that it is not worth turning up if there is no chance of doing so. A glance at the average grades of the teams below shows that Margate had by far the weakest team but it did not prevent them from playing. Of course, the fact they were hosting the competition may have had something to do with it….
FOLKESTONE        4½                              Team A          average grade  167
BROADSTAIRS      3½                               Team C                      "              141
BRIDGE                   3½                               Team D                      "             153
MARGATE               ½                                 Team B                      "             106
Without wanting to sound too priggish, I have always taken the view that all clubs should enter Thanet competitions almost as a condition of entering the league. Recent additional quickplays have tested this resolve and in my mind there are too many such tournaments if a club already has a busy domestic calendar as we do. Nevertheless, we will always put a team in for the Team Buzzer and Jamboree.
This year we were missing a couple of players but the team we put out was quite a competent one by our standards although a glance at the average grades suggests that third was the best we could hope for.  Joint second, only a point behind the winners whose average grade was 16 points above five of our six players, therefore represents something of an achievement. The first two games to finish for us were John's fairly straightforward win against John Clarke as expected and David's less expected draw against Richard Eales, the highest-graded player in the tournament.  My game against John Atherton always looked fairly even and when I was offered a draw, it seemed a good idea to accept given our grading difference. On reflection, a little more courage on my part could have paid dividends as a win for me would have given us a share of first place. At this point, however, 2/3 with the possibility of two more points looked promising.
Reg looked to be in a good position against Graeme Boxall early on but it looked less so once he lost a pawn and with the rooks blocked a draw was agreed (2½/4).  Nick had the toughest game of all, facing an opponent 36 points above him. His exposed king and the exchange of a queen and two pawns for two rooks did not augur well but somehow he hung on until defeat was confirmed (2½/5).  The last game of the evening to finish was Alan's against Clive Le Baigue.   Given the grading difference between the two, it was a game that Alan would expect to win but in a tricky bishop and pawn ending Clive hung on and a draw seemed likely. With time running short, however, Alan sacrificed his h-pawn to allow his king into the centre to mop up the central pawns and queen his own: a neat finish (3½/6).   So Broadstairs finished joint second with Bridge despite an average grade twelve points below them. Well played, team.
Paired Results: (White, first named)
A1       Andrew HAMMOND 189        1-0          157      Peter McGILL           B1
C1       David FALDON       175          ½-½      202      Richard EALES       D1
B2       Clive LeBAIGUE    115             0-1         151      Alan GOSMAN         C2
D2       Arnaud WISMAN     173        ½-½     188       Leon WOOLDRIDGE
A3       Joe SHULZE            186           1-0        e150     Nick McBRIDE        C3
B3       Colin GREGORY     114            0-1         173      Alan ATKINSON      D3
D4       Shany REZVANY    168           1-0         104      Leon GARFIELD     B4
C4       Bob PAGE                145            ½-½     167      John ATHERTON   A4
C5       John COUZENS      118             1-0          90      John CLARKE        B5
A5       Martin CUTMORE   164           1-0         115      Shahid SAHI            D5
C4       Don RICHARDS      57            ½-½       108      David ERWEE         A6
D6       Graeme BOXALL    85            ½-½       106      Reg PIDDUCK         C6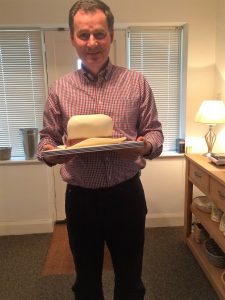 I don't suppose I was the only amateur forecaster to suggest that Leicester City would not win the Premier League this season – even as late as Christmas. However, on reflection, it was perhaps unwise to say that I would eat my hat if they finished fourth at the end of the season. (My son suggested that as Leicester finished first, all bets were off but as John Couzens said, I am a man of my word.) The fact that only about two teams top at Christmas had failed to go on and become champions did not worry me: injuries, suspensions, the inevitable loss of form….Somehow, they proved us all wrong and as my friends kept reminding me, my Paddy Ashdown moment was fast approaching.
I have an old panama that my wife would be only too happy to see me eat but Michael Jenkinson was more concerned about having to employ his resuscitation techniques if I went ahead so on May 16th, as hundreds of thousands of Leicester supporters crammed into the city centre to celebrate the most unlikely of triumphs, I fulfilled my part of the bargain and brought a more edible fedora (see above and below) to the club so that everyone could share a slice of my humble pie.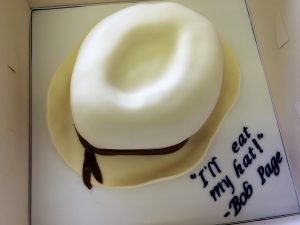 There was no shortage of requests for teams that I thought likely to win next season so that folks could back them for relegation and vice versa but having tipped my own team, Charlton, to win the Championship handicap competition, only to see them relegated, I think I need a season off (as does my chess, I suspect, but that's another story). Still, as Andy Flood pointed out, Leicester only won by ten points – and what would the odds of that have been at the start of the season? And let's be grateful for small mercies – I could have done a Gary Lineker and offered to play the first chess match of next season in my underpants….