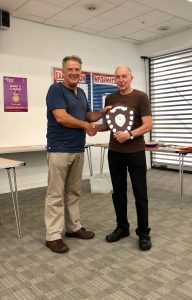 It's always a pleasure to see local players winning at the Thanet Congress and once again Broadstairs' own Reg Pidduck collected the Oyster Shield for the highest score (3½ points in the Minor) by a Thanet League player aged over 60 in either the Minor or Intermediate sections. This is the fourth consecutive year that Reg has won the award and the sixth time in all. Well done, Reg! Here he is (left) being given the shield and congratulated by the Gullbuster, John Couzens. Charlotte, the photographer reminded John that he would qualify for this award soon but that he would have to win some games first.
There was a three-way tie for first place in the Minor tournament between Broadstairs' Joshua Vaughan, David Archer (Godalming) and 10 year old Emily Maton (St Albans Early Knights) The key game here came in the final round between David and Emily with both on 3½ points. However, their draw gave Josh the chance to win outright as he was also on 3½ at the start of the round. Hats off to David for his coolness in heading off home, not knowing if he would finish first or second. In fact, the end was very tense as Josh looked to be winning but could not convert his rook v two pawn advantage and had to settle for a draw.
As a local player, however, he qualified as the Kent Minor Champion and was presented with his trophy from John (see photo). David was unable, therefore to collect his prize but he has submitted one of his games that he thinks is worth a wider audience. In his own words, "I liked this game because it was well fought, very close and an unusual finish. My opponent has not been playing very long and clearly shows great potential."
White:  Lawrence Hawkswell  (UG)    Black:  David Archer (105)
As the 2017/18 season draws to a close, it seems appropriate to applaud the winners of the three main competitions in the Thanet and East Kent Chess League.  The Blue Riband event is the Millar Cup which as can be seen in the table below was won not for the first time by Bridge. The first three places are generally taken by the same teams so the real fun in this competition is to see who comes fourth after the Big Three. With no bias whatsoever, hats off to Broadstairs for edging ahead of their local rivals.
Millar Cup 2017/18 
| Team | Play | Won | Draw | Lost | For | Against | Points | SP | MP | IM |
| --- | --- | --- | --- | --- | --- | --- | --- | --- | --- | --- |
| Bridge A | 8 | 5 | 2 | 1 | 30 | 26 | 12 | 0 | 0 | 0 |
| Bridge B | 8 | 5 | 1 | 2 | 33½ | 22½ | 11 | 0 | 0 | 0 |
| Folkestone | 8 | 3 | 2 | 3 | 29½ | 26½ | 8 | 0 | 0 | 0 |
| Broadstairs | 8 | 2 | 1 | 5 | 24½ | 31½ | 5 | 0 | 0 | 0 |
| Margate | 8 | 2 | 0 | 6 | 22½ | 33½ | 4 | 0 | 0 | 0 |
The other two main competitions are generally more interesting because no-one can be sure at the start of the season who is going to win. The Hargreaves Shield is for those players with a maximum grade of 140 and this is where Broadstairs has an advantage with some strong players just squeezing into this bracket.  This year was a triumph for the team with some key performances from certain players, Broadstairs winning the competition for the second time in three years.
Hargreaves Shield 2017/18
| Team | Play | Won | Draw | Lost | For | Against | Points | SP | MP | IM |
| --- | --- | --- | --- | --- | --- | --- | --- | --- | --- | --- |
| Broadstairs | 6 | 4 | 2 | 0 | 17 | 7 | 10 | 0 | 0 | 0 |
| Margate | 6 | 3 | 0 | 3 | 13½ | 10½ | 6 | 0 | 0 | 0 |
| Bridge | 6 | 2 | 1 | 3 | 10½ | 13½ | 5 | 0 | 0 | 0 |
| Folkestone | 6 | 1 | 1 | 4 | 7 | 17 | 3 | 0 | 0 | 0 |
The third competition is the Walker Shield for those graded 115 and under. In the mid-term report it was pointed out how close it was and that it might come down to 'goal difference' and that is exactly what happened. A glance at the table below shows that it could not have been closer. However, let's not dwell on the one that got away but highlight the excellent performances that got the club within a gnat's whisker of winning the competition, especially the magnificent victory over Ramsgate where Broadstairs had to win 4-0 and did so. Read the report here.
Walker Shield 2017/18
Of course, the Thanet Shield is the local trophy that gives bragging rights to its winner over the other Thanet clubs. A glance at the above tables shows that Broadstairs was once again the pre-eminent Thanet team so we won the trophy for the third successive year.
The league season may be over but the main event is fast aproaching which is the 49th Thanet Chess Congress, this year being held at St George's School, Broadstairs, for the first time since the school was re-opened in 2010. There is still time to enter and we hope for a sizeable local presence to support Andy in all the hard work he has done to organise the event.  The congress takes place this weekend (Aug 17-19) and full details and online entry can be found here.
I don't suppose it will come as a surprise to many people to learn that Michael Adams won the 2018 British Chess Championships for the sixth time but what may amaze chess followers is that he first won it as a 17 year old in 1989 and that since then – although he has missed a few tournaments for one reason or another – he has never been beaten at the British!  How different it might have been had Tamas Fodor not made this horrendous blunder in Round 3:
White:   GM Tamas Fodor (2506)    Black:  GM Michael Adams (2706)
British Championships 2018
Here it is White to move and precise play could (should?) have won the point. Stockfish had White as slightly better at this stage at 0.77. However, with one move this had changed to 'Black can mate in eight moves'! If you haven't seen this game, try to guess White's fatal error before going to the next line.
61. Qe5??
It probably did not take Adams long to realise this was indeed his lucky day.
61…..g5+!
62. fxg loses the Queen while 62. Kh5 (the only other move) loses the game to 62…Qxh3 mate.
Meanwhile, at the next board, a contender for Game of the Tournament was being played between David Howell and James Adair that certainly grabbed the attention of the onlookers.
White:   GM David Howell (2687)    Black:  IM James Adair (2492)
British Championships 2018
Howell and Gawain Jones, both former British champions, were seen by many as Adams' main rivals. Draws against Jones and Adams in the next two rounds put Howell in a strong position coming into the last round, unbeaten and level with Adams, where he met Luke McShane.
White:   GM David Howell (2687)    Black:  GM Luke McShane (2669)
British Championships 2018
As was pointed out on Twitter, there is a zugzwang after Black's 30th move (30…h4), and if White had tried 31.Ra4 then Black would play 31…a5 when 32.Rc4 is dealt with as in the game. Victory here, which was voted as Game of the Tournament, gave McShane 7/9 level with Adams who drew his last game, resulting in a tiebreak. First, two rapid games were played with 20 minutes and 10 seconds increment on the clock. Adams won the first one convincingly and looked on course to win the second before McShane found a Get out of Jail Free card and the score was 1-1. Two games of five minutes plus three seconds increment were scheduled. Adams won both blitz games, claiming his sixth title and the £10,000 first prize. McShane earned £5,000 as runner up.
So Adams wins his sixth title and McShane, who also lost in a play-off last year, is already being seen as the Jimmy White of British chess!
Rook van Zugzwang reports:
Welcome to the 2018 British Chess Championships and welcome to Hull. Some years ago in an episode of 'Last of the Summer Wine', a character was introducing himself to the others. "I come from the Far East," he said. "China?" they asked. "No, Hull," came the reply. Driving east on the M62 – it's over an hour from the M1 by motorway – Hull does indeed feel like the Far East. The first clue to the inevitable 'Are we nearly there yet?' is the appearance of the magnificent Humber Bridge, looming large by degrees until you drive underneath and can really appreciate its size.
Most people are aware that Hull was the UK City of Culture 2017 and home to Hull City F.C. who play at the KCOM Stadium but hands up if you know what KCOM stands for? No? Well, that's the problem because the original name was the KC Stadium after its sponsors, Kingston Communications, but few people knew that and it is debatable whether the change to KCOM has made any difference.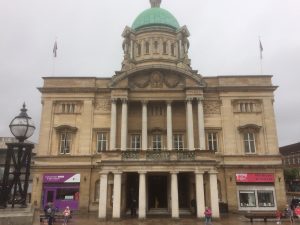 But what about the chess, I hear you ask? The Championships are being held in the City Hall (see left), bang in the middle of the city which is handy for everything. The building dates from the early 1900s but the organisers have managed to install some kind of air conditioning which is an improvement on Canterbury a few years ago. The first thing you notice about the players is the extraordinary age range: 8 to 80 would be a conservative estimate and some of the juniors are frighteningly good. Many of the players double up by playing one game in the morning and a second in the afternoon…..every day for five days. Ten games in a week and sometimes the weekend congress, too. Fifteen games! And this is the new shortened version of the Championships, which used to last for two weeks.
Watching people playing chess is an acquired taste and not for everyone. When Kasparov played Karpov in London in 1986 The Sunday Times headlined an article on the match, 'Who would pay £10 to watch two men think?' and the question was not entirely facetious. Who, indeed? (Well, me for one because I was there.) Admittedly, the players in this tournament were not exactly Champions League – top seed Michael Adams is currently the world no. 41 – but they were certainly Premier League and it cost nothing to see some top class chess.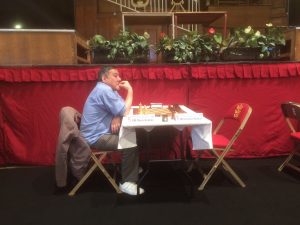 On Monday I was there for round 3 and most of the leading players were on 2/2. The dynamic was fascinating. Mark Hebden (see right) and Tamas Fodor both arrived early, Hebden seemingly relaxed but Fodor was clearly 'in the zone'. When Adams took his seat to play the latter, there was no apparent acknowledgement from either player. Adams spent some time arranging his pieces then felt he had to do something so he strolled over and spoke to Hebden. By contrast, Gawain Jones chatted amiably with his opponent, Daniel Fernandez. James Adair looked relaxed as he arrived to play David Howell and smiled at Hebden who said something in return. Jonathan Hawkins arrived just before the start and Hebden rose to shake hands. Curiously, Howell was over seven minutes late. Of the games, Howell-Adair was the most interesting and I'll try and dig it out and post it for those who have not seen it already.
What else is there for the casual observer? Well, there are well-known names to check out such as the current wunderkind, Shreyas Royal, and some not so famous such as our favourite arbiter, Kevin Thurlow, who as I write must be hoping for a better second half of the week after a wretched start. And who's that handing out scoresheets and re-setting clocks? Looks like our former Chairman, Alan Atkinson. The commentary is always worth a visit but we miss Chris Ward and Andrew Martin who were reliably entertaining. The bookshop was predictably quiet as it involved parting with money which does not come easy to the average chess player. A casual glance revealed James Essinger's 'The Mating Game' ('Steamy' – The Sun) on sale but sadly no sign of 'Heaven and Hell' by Michael Doyle.
After a parting check on the top games, it was time to go but there was plenty more for the chess players to enjoy that day as it was announced at the start that the evening's entertainment would be a visit to the casino. This elicited no reaction whatsoever from those on the top boards suggesting that they were definitely not here for fun.
STOP PRESS: Beware fake news – in the last posting it was stated that the John Couzens Vase had been won by David Faldon. In fact, the final has yet to take place and as Paul Carfrae, the other finalist points out, he 'may have some input into the outcome'! Apologies.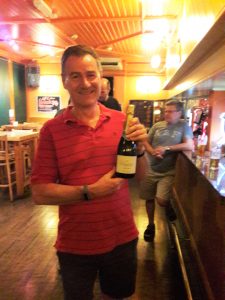 Many chess clubs shut down at Easter but the summer months are just as busy at Broadstairs as we have several club competitions that continue once the league matches have finished. The club championship for the Goodall Cup is reaching its climax and, once again, David Faldon is in the driving seat. Traditionally, he has left his game with Nick McBride until the last week of the season (August 13th this year) but Nick will need to win to share the trophy as he has already lost one game while David remains on 100%. Next year it may all be different with the recent arrival of Trefor Owens, promising at least a three-way contest. David has already won the knockout tournament for the John Couzens Vase.
Within the Goodall Cup there is a separate competition for the Zielinski Shield. This is open to any players in the bottom half of the draw i.e. those with lower grades and is always keenly contested by players who have less chance of winning the Goodall Cup. At present Michael Doyle appears to be on track to retaining the shield he won last year.
The Summer Swiss is a five-round tournament where the prize goes to the player with the best grading performance not necessarily the highest score.  In effect, this means the player who most punches above his weight and with one round to go, Michael Doyle, graded 86 but with a current score of 3/4, could win this too.
At the Thanet AGM last week the Hargreaves Shield and Micklethwaite Shield for the Team Buzzer tournament, both won by Broadstairs this season, were collected by Andy Flood and will be officially presented at the club's AGM in September. The Hargreaves is restricted to players graded 140 and below and the new grades, due any day now, will be scrutinised carefully as we have one or two players on the borderline who may not be eligible next season.
Finally, there was a good turnout on Monday to celebrate in Cramptons after the chess Broadstairs being awarded the title of Website of the Year by the ECF. Special thanks to Richard Clement, who generously presented the Secretary with a bottle of champagne (see photo) in recognition of his work on the website.