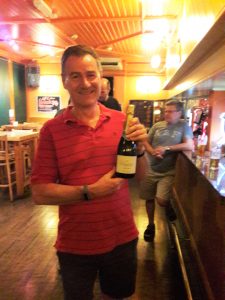 Many chess clubs shut down at Easter but the summer months are just as busy at Broadstairs as we have several club competitions that continue once the league matches have finished. The club championship for the Goodall Cup is reaching its climax and, once again, David Faldon is in the driving seat. Traditionally, he has left his game with Nick McBride until the last week of the season (August 13th this year) but Nick will need to win to share the trophy as he has already lost one game while David remains on 100%. Next year it may all be different with the recent arrival of Trefor Owens, promising at least a three-way contest. David has already won the knockout tournament for the John Couzens Vase.
Within the Goodall Cup there is a separate competition for the Zielinski Shield. This is open to any players in the bottom half of the draw i.e. those with lower grades and is always keenly contested by players who have less chance of winning the Goodall Cup. At present Michael Doyle appears to be on track to retaining the shield he won last year.
The Summer Swiss is a five-round tournament where the prize goes to the player with the best grading performance not necessarily the highest score.  In effect, this means the player who most punches above his weight and with one round to go, Michael Doyle, graded 86 but with a current score of 3/4, could win this too.
At the Thanet AGM last week the Hargreaves Shield and Micklethwaite Shield for the Team Buzzer tournament, both won by Broadstairs this season, were collected by Andy Flood and will be officially presented at the club's AGM in September. The Hargreaves is restricted to players graded 140 and below and the new grades, due any day now, will be scrutinised carefully as we have one or two players on the borderline who may not be eligible next season.
Finally, there was a good turnout on Monday to celebrate in Cramptons after the chess Broadstairs being awarded the title of Website of the Year by the ECF. Special thanks to Richard Clement, who generously presented the Secretary with a bottle of champagne (see photo) in recognition of his work on the website.