This is the Telegraph's Matt on women bishops.  Chess pedants may suspect from the alignment of the board that Matt is not a player.  While we are on the subject, it may be worth a look at the strongest churchmen and women of all time according to The Complete Chess Addict (Fox and James 1987):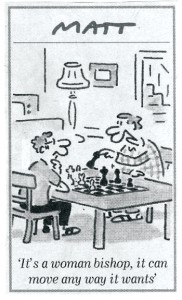 1. Fr Ruy Lopez – yes, that Ruy Lopez
2. Fr William Lombardy – GM, twice U.S. Champion, Fischer's second in 1972
3. Rev G.A.McDonnell – perhaps the strongest of all churchmen, third in London 1872
4. Rev J.Owen – competed with Morphy and Zukertort, beat Anderssen in London 1862
5. Pope Leo XIII – brilliant as Cardinal Pecci before being elected Pope in 1878
6. Pope Innocent III – according to the authors, he stated that 'killing after a game of chess is not a crime'
7. St Teresa of Avila – the patron saint of chess players, apparently
8. Thomas Becket – played chess with Henry II who turned out to be a bad loser
Among a powerhouse of reserves are included two more popes, Billy Graham, Cardinal Richelieu, Thomas More and Thomas Cranmer. A match between the latter two would be an interesting clash of styles.