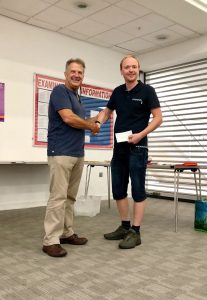 Finally, we conclude our reports on the 2018 Thanet Chess Congress with a game from the winner and Kevin Thurlow's vote for the best game in the Open.  Congratulations to Adam Hunt (see left) for his victory in the Open, and perhaps his result alongside those of Alan Merry's for the last two years may inspire other titled players to take part next year in the 50th Thanet Chess Congress. As far as this writer is aware, it is the first time Adam has played at Thanet although as a once prolific junior it is possible he played some years ago. Here is his round 4 win over the current British U14 Champion of whom Adam said: "I would like to give particular credit to my young opponent, who defended with real composure playing with just the increment for the last 15 moves or so."  Thanks to Adam for his annotations.
White:   Ranesh Ratnesan (185)      Black:  IM Adam Hunt (226)
Kevin Thurlow thought that the following victory by Martin Taylor was especially impressive and that the approach shown by his opponent, Kevin Smyth, contributed to the game's entertainment value. In his words, "White tried to do something, which didn't work, but at least he gave it a go. And it was quite a pleasing combination at the end."  
White:   Kevin Smyth (165)      Black:  Martin Taylor (222)
So that's it for this year. We hope to see you all again in 2019 for the 50th Thanet Chess Congress – oh, have I mentioned that already?
As pyramids are wider at the base than at the top, so the Intermediate and Minor sections of chess congresses tend to attract the most entries and so it was at Thanet this year. 25 entered the Intermediate and almost exactly half of all players took part in one of the two lowest sections. Although competition was close throughout the weekend,  Colin Gregory, our not-so-old friend from Margate Chess Club, emerged as the clear winner by half a point. A close examination of his results will show that this was no fluke – he took a bye in the first round, won the next three and agreed a draw in round five which was all he needed to win outright. Furthermore, all his opponents finished in the top seven with the result that Colin achieved a grading performance of 162!  Here is his round 2 victory and his opponent's only defeat.
White:   Colin Gregory (119)      Black:  Lee Bullock (128)
Players who took part in the Thanet Congress were invited to send in games they thought were worthy of a wider audience and I am grateful to Stephen Appleby of Wimborne for doing just that.  Stephen is a Thanet regular who finished joint second in last year's Challengers tournament. He has submitted a game he played along with an apology to his opponent, Peter McGill, who has already featured in the earlier Challengers game that he lost to Edward Gray. However, it should be remembered that Peter won the Major section last year when he kindly sent in one of his best games. Peter, if you read this, I should be happy to publish your win from this year's tournament.
White:   Peter McGill (149)  (155)    Black:  Stephen Appleby (161)
The Challengers was a very competitive section with 19 strong players including some very promising juniors. One of these, Edward Gray (Sussex Juniors), shared first place with Anthony Lee (Oxford City) with 4/5. Edward has played a great deal of chess during the summer and was selected to play for the ECF England Junior Chess Squad at the European Schools Chess Championships in Krakow in July. Last year he came third in the Thanet Major behind Peter McGill.  This year it was Edward who finished higher and Peter was one of his victims on his path to glory.
White:  Edward Gray  (155)    Black:  Peter McGill (149)
The Major tournament was the smallest section within the Thanet Congress and, not surprisingly, the closest where everyone seemed capable of beating everyone else (unless you have a weekend like your correspondent and fail to win a game).  Consequently, there was a four-way tie for first place and only 1½ points separating top from bottom. Rob Woolacott was one of the winners and as a member of Swale Chess Club, he wins the title of Kent Major Champion. As a former member of Folkestone Chess Club, Rob's victory should count as yet another triumph for the Thanet and East Kent Chess League. The other winners were Ian Cross (St Albans), Phil Foley (Upminster) and David Pinch (Steynton) who drove all the way from Wales to play at the congress.
"I play for my club in the Dyfed League (West Wales).  Steynton is a village outside Milford Haven.  We play against teams as far afield as Aberystwyth, Cardigan and Carmarthen.  Our club has no good players, all mediocre at my level, so I play board 1 or 2.  Cardigan board 1 is Howard Williams, 18 times Welsh Champion, board 2 is Iolo Jones, one-time Welsh Champion and currently a Wales over-65 International, Carmarthen board 1 is Gerry Heap, current Welsh Champion.  I have to play all of these and others similar.  I really enjoyed the tournament, there was a nice friendly atmosphere.  At the moment I am intending to come next year."
    
White:  David Smith  (119)    Black:  David Pinch (146)