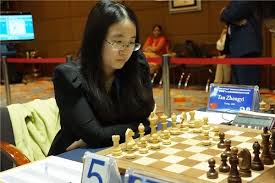 Tan Zhongyi of China has won the FIDE Women's World Championship after a tense final, eventually winning on the second rapidplay game. Tan, a mere WGM and only the ninth seed in the competition, beat Anna Muzychuk of Ukraine in the final, a result that must have surprised many people. Anna was second seed behind the favourite Ju Wenjung and when the latter was knocked out (by Tan) in the quarter-finals, Anna must have fancied her chances. Furthermore, she had a clear run to the final, winning all her classical games whereas Tan had already played 28 games of various lengths including two victories in an armageddon finish. The second of these occurred in the semi-final against Harika Dronavalli of India. The sixth game of this match as reported in the last posting (click here) lasted an incredible 162 moves with Harika winning a bishop + knight ending. Tan bounced back to win the match in the final ninth (armageddon) game lasting 99 moves with a maximum five minutes for Black, remember – one move every three seconds on average. Altogether, there were 661 moves in the match! In the final Tan took the lead in Game 2 after the first game was drawn before Anna levelled in Game 3 with a wonderful attacking game against Tan's French Defence that I wish I had employed against Michael Green in our recent Millar Cup defeat at Bridge.
White:   Anna Muzychuk (2558)   Black:  Tan Zhongyi (2502)       
Women's World Championship 2017
So with one game to go of the classical format – four games in the final as opposed to two in earlier rounds – the internet 'experts' still favoured Anna. The momentum was with her, everyone thought, except that Tan was White in Game 4 which was drawn and Anna must have felt that with Tan's experience and record in the tournament at rapidplay games, perhaps her chance had gone. And so it proved: after Game 5 was drawn, Tan had the white pieces in Game 6 and time trouble was author of Anna's downfall.
White:  Tan Zhongyi (2502)     Black:   Anna Muzychuk (2558)       
Women's World Championship 2017
Whatever one's views on the knockout system and rapidplay finishes for deciding something as important as a world championship, there is no doubt that there was considerably more interest and excitement in Tehran than in the snoozathon at Sharjah which did not even merit a final report on this site. Perhaps an analogy can be drawn between the two formats similar to that of T20 v Test cricket. Is the Tehran tournament the future of chess? Discuss.