David Faldon reports:
Jamboree tournament? Let's define the general by the specific: six teams of six players, one round of games. The Broadstairs board one with black against the Folkestone board one, the Broadstairs board two with white against the Bridge board two, the Broadstairs board three with black against the Sheldwich board three and so on. The evening got off to a great start for us when our board two, Trefor, crashed through to win with a huge kingside attack before I'd had a chance to see what was going on outside my own game. I then checked the other games: our board three had a good position and our boards four, five and six were already winning. Maybe this would be our night? And so it proved. Paul on board four, Chris on board five and Mike on board six all won quickly in rather one-sided fashion. Richard on board three came up against much tougher opposition from young Oli Garrett (ten years old?) but prevailed in the end with an extra pawn or two in a long rook ending. That meant Broadstairs could guarantee winning the tournament with a draw on board one, so when my opponent offered me one I could not refuse. Congratulations to all. Many thanks to Graeme Boxall of Bridge for running the event, to Margate for hosting the event (with free tea, coffee and biscuits) and to Andy Flood (playing as a guest for Folkestone) for giving me a lift home.
Team results
1. Broadstairs 5½ points
2. Woodnesborough (Harry Sharples etc) 4 points
3. Folkestone (Jim Bayford etc) 3 points (including one default)
3. Bridge (Richard Eales etc) 3 points (including one default)
5. Margate (Colin Gregory etc) 1½ points
6. Sheldwich (Patrick Burns and five youngsters) 0 points
Broadstairs results
1. David Faldon ½ Jim Bayford (181, Folkestone) ½
2. Trefor Owens 1 Jeff Green (154, Bridge) 0
3. Richard Clement 1 Oli Garrett (76, Sheldwich) 0
4. Paul Johnson 1 Roy McAloney (96, Margate) 0
5. Chris Stampe 1 DanielAllen (64, Woodnesborough) 0
6. Mike Doyle 1 Chris Wyer (17, Margate) 0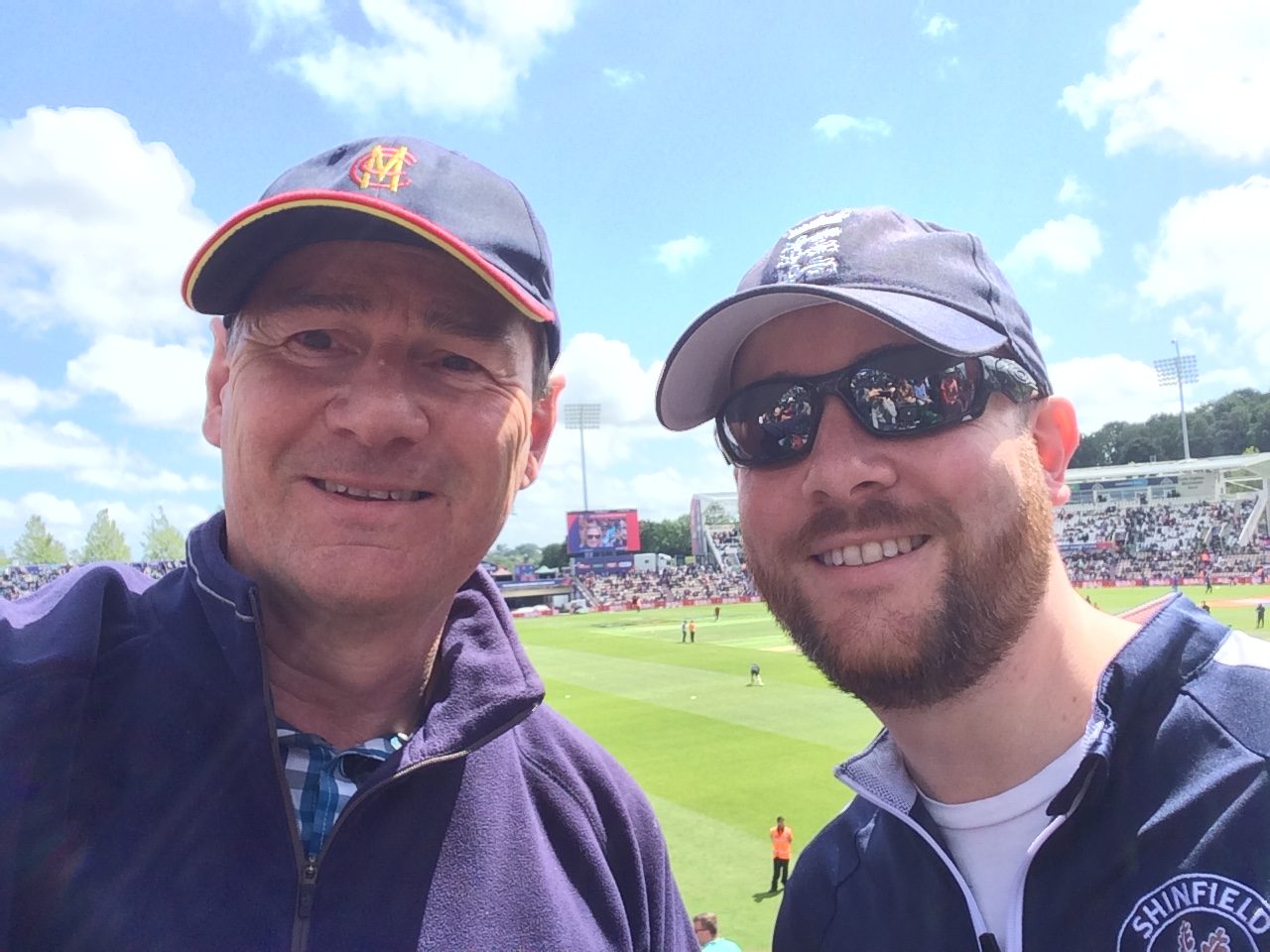 Editor's note: In addition to Andy Flood, Michael Jenkinson and Michael Doyle were also reserves, drafted in to play for Bridge and Broadstairs respectively so thanks and congratulations to all involved. Sadly, there was no official photographer on hand to record the winning team so instead here is a photo of the Editor with former Broadstairs Chess Club member Michael Page watching England thrash West Indies at Southampton on Friday.