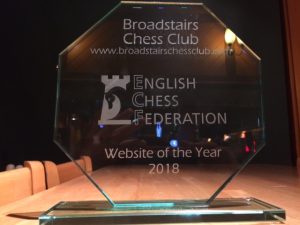 In the summer we received the glad tidings that this site had been named Website of the Year by the ECF and in our naivete we assumed that that was that and with that we were satisfied: the kudos of winning was enough. Now imagine our surprise then when a further email was received last week asking to whom the award should be sent! And here it is….as Reg said, it is really, really nice: modern, stylish, distinctive and…er…slightly wrong.
The bad news is there is a minor error. The good news is it is not easy to spot. In fact, if I thought I'd get any takers, I might offer a year's free membership of Broadstairs Chess Club to the first person to find it. It's made even more difficult to see in this photo by the unintentionally cunning position of the award in relation to the lighting. Yes, if you look very closely, you will notice that the website address on the award is listed as www.broadstairschessclub.com and as all our regular visitors know, we are www.broadstairschessclub.co.uk.
A minor error like this might in some circumstances be overlooked. However, when the award is for Website of the Year and the website address listed is incorrect, it manages to be both amusing and embarrassing at the same time. Fortunately, the ECF saw the funny side, too. A replacement has been ordered and the offer to return the original was declined 'in case you create a second, international site'. So we await the second coming and another presentation at the club. Like all awards ceremonies, this one promises to run and run.