As I write, Game 10 in the World Championship is in progress. After nine draws, everyone is hoping for a decisive result in one of the three remaining games but at the moment the computer has the position as 0.00 which is as equal as you can get. Of course, with only three games left, an error by either player might be decisive not just in that particular game but in the contest overall. Is Carlsen prepared to wait until the tiebreaks where he may well have the edge?
So, if it is drama you are looking for, check out the Women's World Championship instead. The other day we saw the challenger, Kateryna Lagno take a 1-0 lead in the second of the four-game final. The current World Champion, Ju Wenjun, therefore needed to win one of the two remaining games to take the match to a tiebreak. She tried desperately to win with the white pieces in Game 3 but was forced to accept a draw with an opposite colour bishop ending. That therefore left the last game played today when she would have to win with black to hold on to her crown. This is what happened.
White:  Kateryna Lagno (2556)      Black:  Ju Wenjun (2568)
 2018 FIDE Women's World Championship Game 4
It's worth playing through the game. To give you an idea of how games can fall apart even at the highest level, the computer had the position as dead equal after Black's 27th move. After 28.Kh1? it had Black as winning and after 29.Qh5? it said that Black can mate in ten moves. There is a brief interview with Ju Wenjun recorded after today's game on the official website
here
. The tiebreaks start tomorrow and consist of two 25 min + 10-sec increment rapid games, then if needed two additional 10+10 games, two 5+3 blitz games and finally a single Armageddon game, where White has 5 minutes to Black's 4, but a draw counts as a win for Black.
Those of you impatient for a first win for either player in the World Championship match between Carlsen and Caruana in London may be interested in the other World Championship final currently taking place in Siberia.
This is the women's World Championship which follows a slightly different pattern to the men's. It's a knockout competition, initially with 64 players and we are now down to the final two: GM Ju Wenjun of China, the current World Champion, and GM Kateryna Lagno of Russia. (The world number 1, Hou Yifan, a favourite of Broadstairs Chess Club, is currently taking time out of chess to pursue a course at Oxford University.) Those people looking for gender equality in prize money should look away now – while the winner in the men's competition will walk away with one million euros, the entire prize fund for the women's tournament is $450,000 with the winner getting a mere $60,000. It must be worth an invite to the 50th Thanet Congress next August. Incidentally, the topic of women (or lack of) in chess is discussed in a Guardian article (click here.)   
One last difference between the finals is the length: while Carlsen and Caruana are battling it out for twelve games + the possibility of tie breaks (rapid plays, blitz games and eventually armageddon), the women will only have four classic games + tie breaks if necessary. In such a short final, there is little margin for error as Ju Wenjun found out in Game 2 played today. No rest days for the women – Game 3 is tomorrow and Game 4 if needed on Thursday.
White:  Kateryna Lagno (2556)      Black:  Ju Wenjun (2568)
 2018 FIDE Women's World Championship Game 2
                                                   Broadstairs  4        Bridge   1 
| | | | |
| --- | --- | --- | --- |
| 1 | Shani Rezvany  (163) | 1-0 |   Alan Atkinson  (166 ) |
| 2 | Paul Carfrae (141) | ½-½ |   Emily Green (156) |
| 3 | Paul Johnson (116) | ½-½ |   Peter Blundell (118) |
| 4 | Andy Flood (110) | 1-0 |   William Peak (104) |
| 5 | Michael Doyle  (91) | 1-0 |   Ray Rennells (80) |
John Couzens writes:
What a night! Lovely informal atmosphere in the room until the games began,
Shany licking his lips when he found out he was up against Alan Atkinson,
Paul Carfrae laughing at my 'you're only here as cannon fodder' jibe,
Paul Johnson still unsure if he was in Bridge Chess Club,
Andy and Michael ready for action.
I lost the toss and Graeme Boxall chose white on boards 1,3 and 5 (was
this a bad omen?)
Graeme, Susan Green and I retired to the tearoom downstairs to
drink coffee and gossip.
Before I've even finished my coffee, Andy Flood walks in the room
announcing he has won!
11 moves in approx 30 mins!
Great quick game that I hope he will send to Bob for the website.
Next Shany comes down for a cigarette and suggests Michael Doyle has a
won game!
Time to go up and have a look.
Michael has won Ray Rennells' queen and bishop!!
To our surprise he loses his queen later but keeps a rook and pawn
advantage and forces Ray to resign after an hour and twenty minutes in 27 moves.
Two up!
Paul Carfrae was playing Emily Green and looked to have a good centre
attack but she is far too canny and blocked the position.
They agree a draw at 9.15.
Paul could have gone home then but the atmosphere in the room had changed .
Alan Atkinson had fallen for Shany's rook sacrifice and now couldn't
castle, Paul Johnson had won a knight for rook exchange against Peter
Blundell then gave the exchange back to secure a central passed pawn.
Looking good.
All we need at this point is a draw to win the match.
Graeme then takes me outside to let me know all they need is to win both
games to draw the match which on board count would mean a Bridge win!!
What tension!!!
Then Paul J takes his mind (and his bishop and rook) off his passed pawn
and promptly loses it!!
Next thing is we hear a groan of disappointment coming from Board 1 –
Alan Atkinson is in check with no way out!!
He doesn't resign until he sees that Peter is now under time pressure
and has agreed a draw with Paul.
That's it! We've won 4-1!
Great night with all my team playing as I'd hoped, well above their grades!!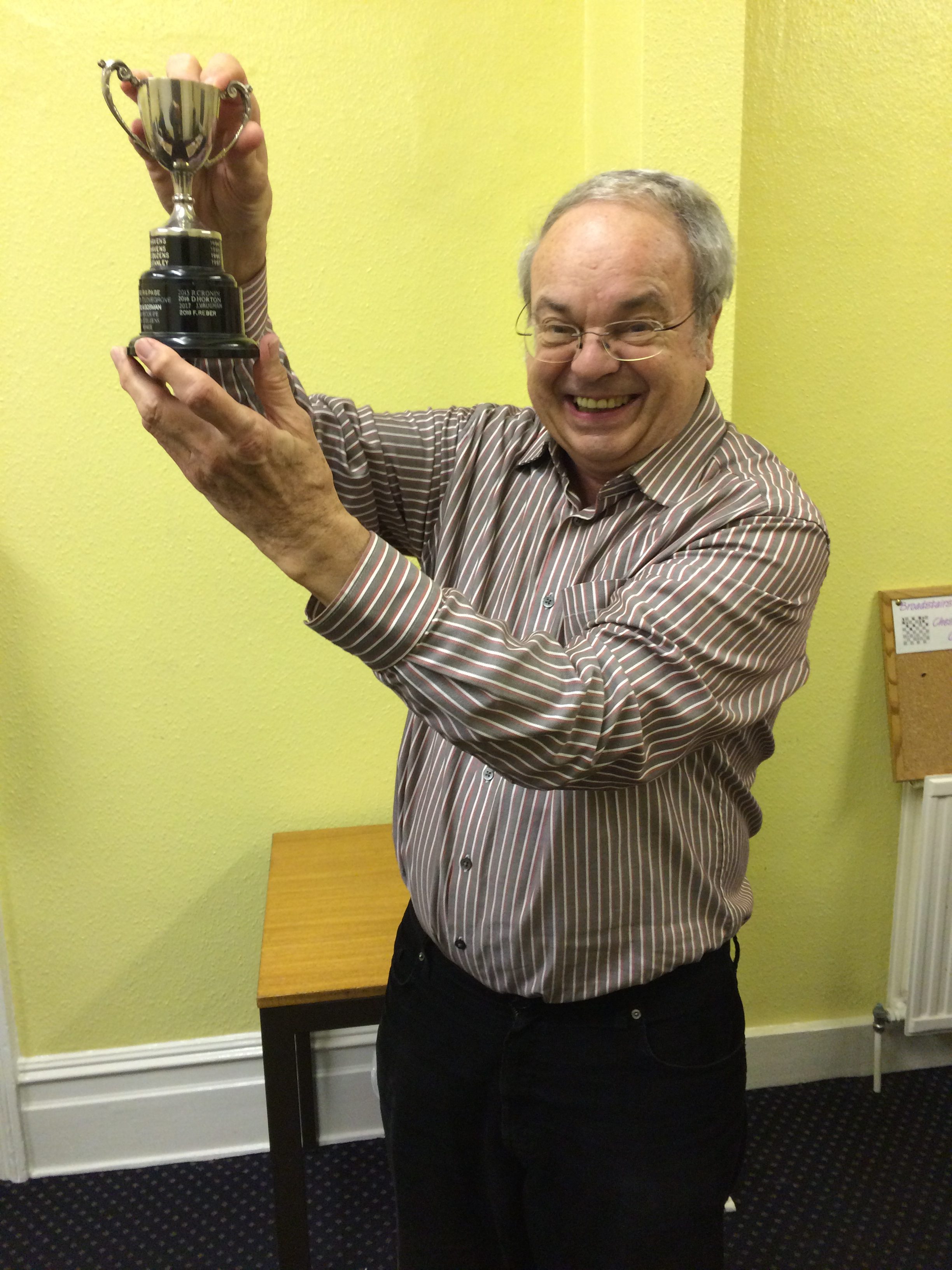 Here is a delighted Fredy Reber holding aloft the George Stiggers Trophy with which he has belatedly been  presented. The trophy is awarded for the most improved player during the previous season based on the change in grades from July to July. Normally it goes to a player whose grade has gone up by about 5-10 points and at the AGM when the trophy is usually presented, this appeared to be the case with two players in the running whose grades had increased by nine points.  Fortunately, the trophy was not awarded at the time because of an error with the ECF grading list for July which affected several players in the club. As this might result in changes to existing grades, it was decided to wait until the ECF managed to sort it out before awarding the trophy.
It was only after the AGM that it was noticed that inexplicably Fredy had somehow been overlooked and not only was his grade improvement higher than nine points but it was a massive 30 points, making him almost certainly the most improved player since the trophy was first awarded. Having established the error, we then had to wait several more weeks until the engraver could return from holiday to complete the job. Finally, over two months later than scheduled, Fredy got his hands on the trophy and no wonder he looks happy. He then made a moving speech saying how he never imagined he would receive such a trophy when he joined the club two years ago.
George Stiggers, after whom the trophy was named, was a stalwart of Broadstairs Chess Club for many years and served as both Secretary and Treasurer from 1950 until his death in 1993. He captained the Millar Cup team – then the only league competition – and ran the club virtually single-handed. The trophy was created in his memory and has been won by many members of the club over the years. Well done, Fredy!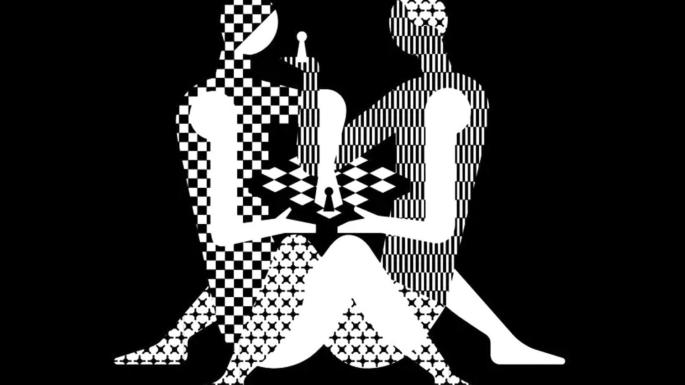 Recognise this extraordinary logo? Well, for the benefit of anyone who has been visiting Planet Zog recently, the World Chess Championship Final between Magnus Carlsen and Fabiano Caruana begins today in London. The logo chosen for the match has not been seen much since the fanfare of its unveiling when the match was announced earlier this year. It attracted a fair amount of interest at the time and led The Times to describe the match as The Pawnographic World Chess Championship. Perhaps the inspiration for the logo was the famous (notorious?) chess game between Steve McQueen and Faye Dunaway in The Thomas Crown Affair.
The match consists of twelve games and if the scores are tied at 6-6 then a tie break ensues, details of which can wait until necessary. What are the odds of Carlsen retaining his title? While his FIDE rating is only three points higher than his opponent, the consensus seems to be that it would be a major surprise if he were to lose, especially as his quick play is superior to Caruana's if the match were to go to a tie break. So what are Caruana's chances? Searching for 'World Chess Championship odds', I was directed to the headline 'What are the odds that chess is sexy enough for sports betting?' from an American site www.thelines.com. (What do you mean, 'No surprise there then?'). It quotes Unibet as claiming the 'betting handle' on the contest to be higher than that of some 2018 FIFA World Cup Matches. Really? Morocco v Iran, perhaps. It goes on to quote Carlsen as 29/50 and Caruana as 7/25. You don't get odds like that at Ascot.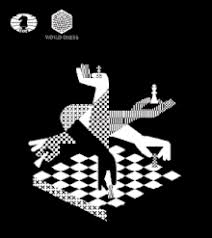 The 'sexy' aspect of the article is clear when you look at the logo but FIDE have offered an alternative 'traditional' one which seems even stranger. To this writer it looks more like a game of Chess Twister which could be the must have game for Christmas. The article states that 'Chess is not noted for being a sexy sport'. Clearly the writer has not visited Broadstairs Chess Club. Unfortunately, his credibility went out of the window when the final paragraph announced that the match will take place in the Victoria and Albert Museum.
In fact, the venue is The College in Holborn, an apparently odd choice as while its website claims that there will be space for 400 spectators, Malcolm Pein in The Telegraph today said that there will only be approximately 160 seats for paying customers, the rest presumably for press and officials. As for the building, it is indeed Victorian as claimed but photos suggest to this reader a cross between Victorian baths and a school hall. See what you think here.
Enough of this, you say, what about the chess? Well, Caruana drew the white pieces for Game 1 but was he able to take advantage? Surely he could not allow Carlsen to win the first game with black? At one point the computer had Carlsen as winning but he blundered and after seven hours there is still no result. While it was hoped to be able to post the game here for everyone to admire (?), with 111 moves played and no result in sight, we shall have to wait until tomorrow.  The online wags are having a field day. "I live in Toronto," says one. "The game started as I arrived at work. I am now leaving and it is still going on." Another suggested that the game will still be continuing when round two begins tomorrow while a third has tipped Carlsen to win in 700 moves. The 30-second increment added per move means this game could run and run. Hold it….pawns have been swapped off so that's another 50 moves….zzzzz….no, wait – draw agreed! As the players leave the stage, you can imagine the resident DJ playing 'Things can only get better'.