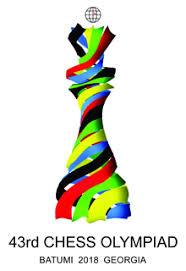 Welcome to Batumi! Where? I hear you ask. Well, as the official logo on the left makes clear, Batumi is in Georgia, the country's second city after the capital Tbilisi. It is on the Black Sea north of Turkey and is the venue for the 43rd Chess Olympiad which began on Monday and runs until October 5th as an 11-round Swiss tournament with just one rest day.  Forget the football world cup and the complaints over 32 teams, this is the big one with 183 countries taking part featuring 185 teams (Georgia is fielding three teams). And that's just the men's tournament….Running simultaneously is the women's competition featuring 151 teams from 149 countries. 749 female players are taking part and 919 men including almost all the top players in the world (although not Magnus Carlsen who is preparing for his forthcoming world championship match).
The England team, seeded 8 and consisting of Michael Adams, Luke McShane, David Howell, Gawain Jones and Nick Pert, made a reasonable start but came a cropper in Round 4 against a strong Azerbaijan team (seeded 4) who outgraded the England team on all four boards. For those of you familiar with Georgia but less so with England, here is a brief summary from the official Olympiad website: 'England, birthplace of Shakespeare and The Beatles, is a country in the British Isles bordering Scotland and Wales. The capital, London, on the River Thames, is home of Parliament, Big Ben and the 11th-century Tower of London.' So now you know.
The USA are favourites to win the men's competition and who can be surprised with Caruana, Nakamura, So and Sam Shankland, the current US Champion in their team. China are seeded 3 and we shall catch up with our honorary overseas Broadstairs member, Wei Yi, in a future post. Russia are the traditional favourites for the Olympiad but they have not made a strong start and lost to Poland (seeded 13) in Round 4. The crucial game was this loss by Vladimir Kramnik to the Polish no.4, Jacek Tomczak. In a fairly wild game, the position suggested a slight advantage to White until 26….Rd5? when the computer's analysis went from "White is slightly better' to 'White is winning' in one move.
White:  Jacek Tomczak (2614)      Black:  Vladimir Kramnik (2779)
 43rd Chess Olympiad (Batumi) Round 4
We welcomed several new players to the club in 2018 and four of them played in our first Millar Cup match of the season at Folkestone. One of the four, Trefor Owens, could not have made a better start with this terrific win. Perhaps we should instigate a Game of the Season because this one would certainly be a front runner: when did you last sacrifice your queen on move 10 – and win? Although it was in a losing cause as Broadstairs were beaten by Folkestone – just our luck to produce a team with an average of 153 and come up against a side averaging 160 – it was very satisfying that two of our new members got off to winning starts against strong opponents and we look forward to more of the same in the future. Well played, Trefor, and thanks for adding your comments on the game.
White:  Martin Cutmore (173)      Black:  Trefor Owens (167)
 Millar Cup v Folkestone (a)
                                       Broadstairs  2½         Folkestone 4½ 
| | | | |
| --- | --- | --- | --- |
| 1 | David Faldon (175) | ½-½ |    Jim Bayford (181) |
| 2 | Trefor Owens (167) | 1-0 |    Martin Cutmore (173) |
| 3 | Shany Rezvany (163) | 0-1 |    Kevin Smyth (165) |
| 4 | Arnaud Wisman (155) | 1-0 |    John Atherton (163) |
| 5 | Bob Page (144) | 0-1 |    Tayfun Demirbilek (153) |
| 6 | Paul Carfrae (141) | 0-1 |    Matthew Cussens (152) |
| 7 | Richard Clement (128) | 0-1 |    Alex Nicol (136) |
David Faldon writes:
Broadstairs were excited to land a whole netful of new members for the new season, and we took three of them to Folkestone for the first of our Millar Cup matches. Fielding the strongest team we'd ever raised in my time as captain, we were still outgraded by Folkestone on every board. Despite this overall (slight) mismatch, each individual game was closely fought with the match result in doubt until near the end of play. The highlight of the evening was undoubtedly the board two clash where Trefor sacrificed his queen for two, three or four minor pieces (the situation was different every time I looked). Provided that Trefor hasn't lost his scoresheet I expect to see his effort featured as Game of the Week on this website in the very near future. Look out for it! Most of the other games saw tricky tactics too, apart from the game on board four where the queens and all four rooks were hoovered off early. Still, endings can be fun too with the right attitude and Arnaud persevered and his patience was rewarded. Regrettably, most of the other games didn't end so well for Broadstairs, but at least we gave it a real go this year. Many thanks to everyone who played and especially to those who drove such a long way. Congratulations to Folkestone on their victory. As usual, they made us feel very welcome and even provided tea, coffee and biscuits.
The club championship at Broadstairs for the Goodall Cup is well under way and our first contender for Game of the Week features two newish members, Trefor Owens and Richard Clement, who both joined the club last year. Perhaps describing this as Game of the Week is slightly misleading as Trefor didn't know how he lost and Richard didn't know how he won.  You may wonder, therefore, why it was selected. Well, a player beating an opponent almost forty points stronger is always worth sharing with a wider audience in my opinion.  Fortunately, both players have added their comments so you can make up your own mind. A curious postscript to this game is that it was the first in the Goodall Cup for either player. Both will remember it for different reasons.
White:   Richard Clement (128)      Black:  Trefor Owens (167)
While we mere mortals concern ourselves with how to win games in our club championship, in Turkey the World Junior Chess Championships have just concluded with victory in the boys section for the 18-year old Iranian GM, Parham Maghsoodloo. What do you mean, you've never heard of him? You soon will because his ELO grade is now after this tournament 2691. To put it into context, only two players in England – Michael Adams and Matthew Sadler – have higher rankings and then only just. Furthermore, he won with a round to spare, lost his last game and still finished a point ahead of the field. Here is his round 10 victory over the Russian IM Maksim Vavulin and if you would like to hear Parham talking about the game and his chess in general, click here.
White:   Parham Maghsoodloo (2649)      Black:  Maksim Vavulin (2559)
World Junior Chess Championships 2018
The girls competition was much closer with only half a point separating the top seven players in the end. Victory went to Aleksandra Maltsevskaya of Russia who won her final match while the board one game ended in stalemate, giving the untitled Maltsevskaya, who began the tournament as the 19th seed, the title on a tie break. Here is that final round match against her fellow Russian, WFM Margarita Potapova.
White:   Aleksandra Maltsevskaya (2234)      Black:  Margarita Potapova (2277)
World Junior Chess Championships 2018