All good things must come to an end and for the Tata Steel Masters 2019 that day was today but what a finish was conjured up. In an all-play-all tournament it is obviously chance who plays who in the final round but what could be better than the two leading players drawn to fight it out against each other for first place. Magnus Carlsen went into the game with a half-point lead over Anish Giri thanks to his win in Round 12 while Giri was held to a draw. While this means that Giri would have to beat Carlsen to win the tournament – and what a worthy champion he would be if he were able to do that – at least it prevents the threat of déjà vu: in the same tournament last year Carlsen and Giri tied for first place with the former winning the tie break. After the way Carlsen easily dispatched Fabiano Caruana in the World Championship, this is probably something Giri would prefer to avoid. How he would like to repeat his 22-move victory over Carlsen in his first Tata Steel Masters in 2011. Sadly, despite having the benefit of the white pieces, Giri never gained much of any advantage and with Black standing 'much better' according to Stockfish, a draw was agreed after 30 moves, leaving Carlsen winner for the seventh time.
So while all the locals were cheering for Giri who is Russian-born but has competed for the Netherlands since 2009, what of the Van Foreest family featured in the last Tata article on this site? Lucas finished on 6/13 in the Challengers while his 11-year old brother Nanne scored 4/9 in the Group 5A all-play-all with an average FIDE rating of 1716 (approx 174 ECF). Nanne's twin sister, Machteld is the stronger player of the two, having won the Dutch U10 Girls' Championship in 2014 at the age of 6 and both the U12 and U14 Dutch Youth Championships (boys section) in 2018. At Tata she competed in the Group 2C all-play-all, finishing on 3/9 for a performance rating of 2004 (approx 201 ECF). To put this into perspective, the top English U11 girl is Jessica Mellor (145 ECF) and the next highest is graded 126.
Meanwhile, what of the eldest sibling, Jorden, who was competing in the Masters? While he lost seven of his thirteen games, it should be remembered that he had the second lowest FIDE rating of all the competitors and he was mixing with serious company. Of his three wins, the following was a wonderful attacking performance against the world number thirteen. After his opponent's victory in Round 9, The Daily Telegraph chess column was headed 'Nepo back in the running' as he moved into joint first place. Unfortunately, this appeared to scupper his chances as he scored only 1½/4 in his remaining matches. His defeat by Jorden Van Foreest was his first in the tournament.
White:  Jorden Van Foreest (2612)      Black:  Ian Nepomniachtchi (2763)
Tata Steel Masters 2019 Round 10
Finally, here is a bonus Blunder of the Week and it just goes to show that even the best players can get it wrong sometimes. Here we have the current US Champion Sam Shankland playing with the black pieces in Round 11 at the Tata Steel Masters against Anish Giri, who has just played 45. b6. What would you do as Black?
Well, Shankland resigned, apparently thinking that because he could not get his king back to a8, he was lost but Giri knew that if the king reaches c8 – which it can do – the game was drawn. When Shankland offered his hand, Giri had to ask him to be sure: "Did you resign?" "Yes," he replied! For the full story and an interview with Giri after the game, click here.
                                            Broadstairs  2        Folkestone   5
| | | | |
| --- | --- | --- | --- |
| 1 | David Faldon (175) | 0-1 |  Jim Bayford (181) |
| 2 | Trefor Owens (167) | ½-½ |  Martin Cutmore (177) |
| 3 | Shany Rezvany (163) | ½-½ |  David Shire (169) |
| 4 | Arnaud Wisman (155) | 0-1 |  Kevin Smyth (165) |
| 5 | Bob Page (142) | 1-0 |  John Atherton (161) |
| 6 | Paul Carfrae (141) | 0-1 |  Matthew Cussens (152) |
| 7 | Richard Clement (129) | 0-1 |  David Erwee (100) |
David Faldon writes:
Two strong teams fought out a close match, and in the end the better team won. What's not to like, apart from the fact that the better team on this occasion was Folkestone. The first result in was a hard-fought draw on board 2, then came a win for Broadstairs on board 5 when Bob calmly took advantage of his opponent's time pressure. Unfortunately, that was as good as it got for Broadstairs as the next four results were all wins for Folkestone. Shany's stubborn defence an exchange down (bishop for rook) on board 3 saw him save the draw, but that was too late to turn the match. A clear three point margin sounds a lot, but we were very close to winning on boards 1 and 4, which would have been enough to turn the match in our favour. Still, we have to congratulate Folkestone who have thereby taken what looks to be a decisive lead in the race for the Millar Cup. Folkestone have 3 wins from 3 games, we have 2 wins from 4, Bridge have 1 win from 3 and Margate just the 2 losses so far. Folkestone only need one win and a tie from their last three matches (one against Bridge and two against Margate).
Rook van Zugzwang reports from Wijk aan Zee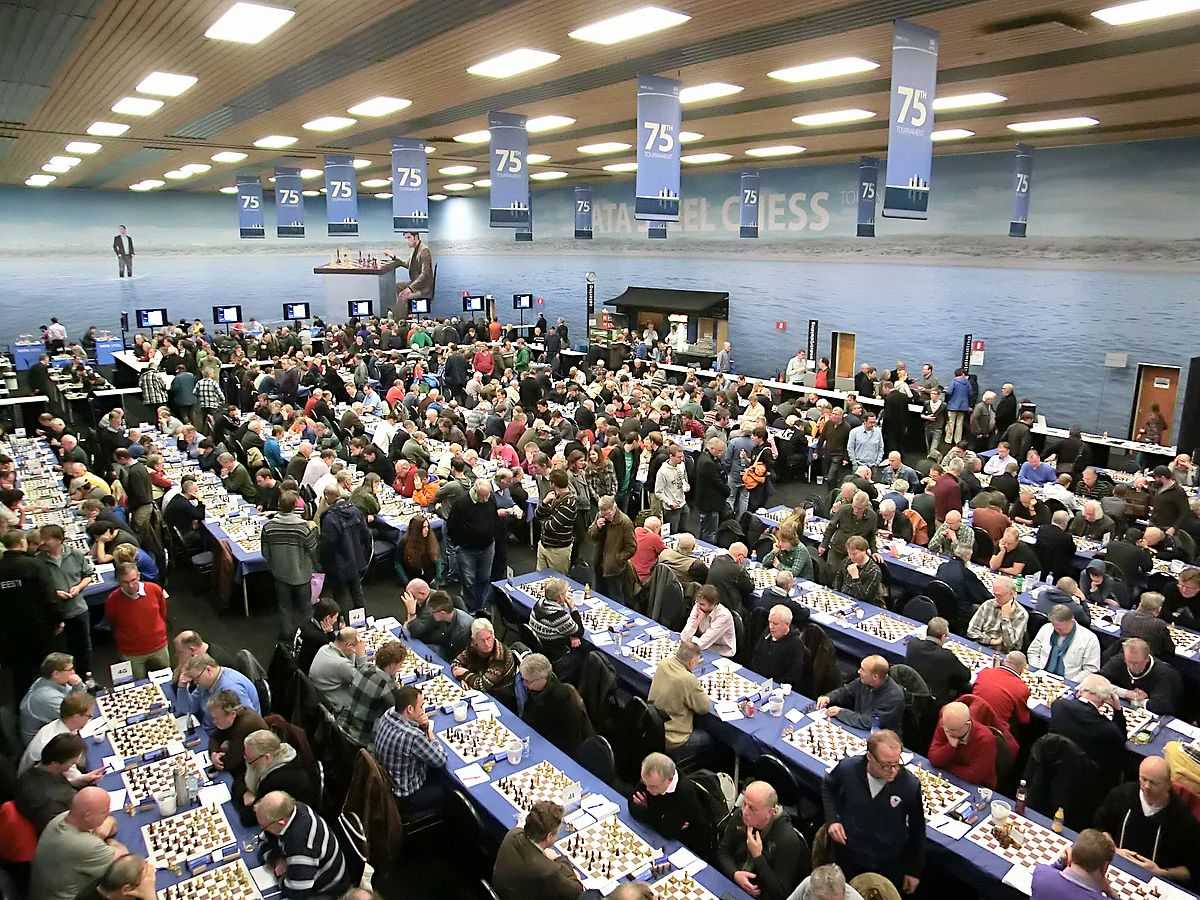 Welcome to my home town, Wijk aan Zee, and to the Tata Steel Chess Tournament, the biggest and best in the world. For those of you unfamiliar with Wijk, it is a coastal town about 44 km from Amsterdam  and my English friends say it is a little like Broadstairs but with better chess players. At least, that is certainly the case at this time of year when players and spectators from all over Europoe descend upon our little town. Most of those are 'amateurs' but the main interest is on the 28 players who take part in the two main competitions, the Challengers and the Masters.
We are constantly told that chess is a young person's game and a glance at the entrants for both competitions will bear this out. You may be unfamiliar with the van Foreest family but they are well known in the Netherlands and GM Jorden van Foreest (19) plays in the Masters while his bother, Lucas, also a grandmaster at 17, plays in the Challengers. If you think that is young, the Challengers also features IM Vincent Keymer (14) and GM Rameshbabu Praggnanandhaa, who is not 14 until August! At the other end of the scale is GM Evgeny Bareev who at 53 is old enough to be their grandfather. All chess players know that it is no fun playing juniors so imagine how Bareev must have felt as he faced a young whippersnapper like van Foreest in Round 3.
White:  Lucas van Foreest (2502)      Black:  Evgeny Bareev (2650)
Tata Steel Challengers 2019 Round 3
So what about the Masters, you may be asking. Well, it's tight at the top and after eight rounds there is only half a point separating the leading five players. Ominously, after his run of 21 successive draws, Magnus Carlsen is beginning to strike form at the right time, winning three of his last four games to move into joint first place. We are pinning our hopes on Anish Giri, who plays Carlsen in the final round. In the meantime, let's raise a cheer for the oldest player in the tournament, Vishy Anand, appearing at Wijk aan Zee for the 19th time. Vishy will be 50 this year yet he remains in the world top ten and currently shares the lead with Carlsen whom he plays in Round 10. Like Carlsen, he has won three games and drawn the rest but victories in his last two games suggest that momentum is with him. Anyone who can dispatch the world number three in 29 moves as Vishy did in Round 8 today cannot be discounted as a potential tournament winner.
White:  Viswanathan Anand (2773)      Black:  Shakhriyar Mamedyarov (2817)
Tata Steel Masters 2019 Round 8
And what about the Game of the Tournament so far. Well, for many it is this swashbuckling effort from Teimour Radjabov in Round 7. After the game the two players discussed it at length and their analysis was recorded by organisers. Enthusiasts – the discussion went on for 35 minutes – can find it either on the Tata Steel site, Chess.com or YouTube.
White:  Teimour Radjabov (2757)      Black:  Santosh Gujrathi Vidit (2695)
Tata Steel Masters 2019 Round 7
Congratulations to the Mick Croft Cup team in winning Broadstairs' second trophy of the season with their fine win on Monday. As John's report makes clear, it was a tense occasion with two evenly matched teams.  At 1-0 down, the next result was crucial. If Woodnesborough won that game, Broadstairs would have to take at least two and a half points from the remaining three games to win the trophy. Paul Johnson's game looked like being the next to finish and the rook and pawn ending was far from easy. As spectators gathered around the board, full credit to Paul for holding his nerve and winning this vital game that proved to be the turning point in the match.
Mick Croft Cup Final v Woodnesborough  
White:  Raj Sookhurry (e110)      Black:  Paul Johnson (116)
                                                 Broadstairs  3        Woodnesborough   2 
| | | | |
| --- | --- | --- | --- |
| 1 | Shani Rezvany  (163) | 1-0 | Harry Sharples (144) |
| 2 | Richard Clement (129) | 1-0 | John Thorley (140) |
| 3 | Chris Stampe (124) | 0-1 | William Grummitt (133) |
| 4 | Paul Johnson (116) | 1-0 | Raj Sookhurry (e110) |
| 5 | Michael Doyle  (91) | 0-1 | Mark Towlson (94) |
Grade totals:                          623/625                                            621/625
John Couzens reports:
So we made it to the final after a  spell of eight years in the Mick Croft Cup wilderness!
My first choice team were all available so I had high hopes of a good result (no cannon fodder needed this time)
Woodnesborough at home ….. Come on!
Harry's boys showed up and my confidence took a bit of a knock when I saw John Thorley (140) was on board two, William Grummitt (133) on board three, Raj Sookhurry estimated at 110 on board four (we all know how estimated grades can differ from real grades!) and Mark 'Thanet Congress king' Towlson 94 on board five….
mmmmmm not going to be as easy as I'd anticipated
My expectations took another hit when after 20 moves Michael 'reliable' Doyle lost his queen for nothing!
Soon after he gave up his rook, resigned and went home. (We missed you in Cramptons, barmaids and all – come back soon!)
The other four boards all looked equal for ages, then Chris hit a central brick wall and lost the exchange
John Thorley offered Richard a draw (declined) and Paul's game looked like drawing too
Looking good for the visitors
Then Paul dug deep and finished a tense endgame, forcing Raj to resign
Shany was pushing Harry hard, won a knight and eventually Harry had to resign
2-1 up
All we need now is a draw from Chris or Richard and the Cup would be ours (with a drawn match, the bottom board result is eliminated -Ed)
Then Richard 'Cliff Thorburn' Clement finally ground poor old John Thorley into submission
The cup was ours!
Small consolation for Woodnesborough as William finished off Chris in the final minutes
Final score 3-2
Well done, Broadstairs superstars!