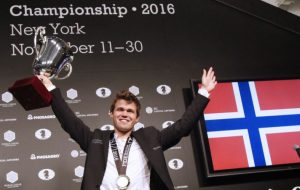 How could we ever have doubted it? Surely it was written in the stars that Magnus Carlsen would retain his World Chess Championship title.  Perhaps he was toying with us by losing Game 8 then disappointing us all by drawing Game 12 meekly when everyone was expecting the grand finish. Was this a deliberate ploy to ensure that he retained his title via the tie breaks on his 26th birthday? Well, if people were denied a grand finish in the classical format, they got a spectacular one instead with the dénouement of the decisive fourth tie break game.
White: Magnus Carlsen (2853)            Black: Sergey Karjakin (2772)
World Chess Championship Tie Break 4  
The exciteme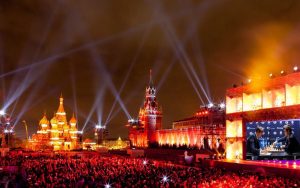 nt that accompanied the final day of this enthralling match was not confined to the 600 spectators crowded into the Fulton Market Building in New York. As well as the millions following the game online, here is the reaction in Moscow's Red Square……and remember this is in the middle of the night in late November! And the excitement among the spectators only increased when Karjakin opted for the Sicilian Defence in reply to Carlsen's 1. e4,  suggesting that if he were to go down he would not go quietly. Eventually, however, Carlsen's pressure told and the reaction of the spectators when the Champion played 50. Qh6 – gasps and then applause – finally made them realise that here was the grand finish they had hoped for but at the right moment.
There has been almost unanimous agreement that Carlsen has not been at his best and that Karjakin excelled most predictions by clinging on to within touching distance of winning the championship, and there can be no doubt that the match has grabbed the public's attention. The poetic nature of Carlsen's victory – a queen sacrifice to conclude the final game to win on his 26th birthday – was the perfect way to win a world championship.