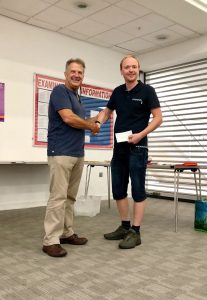 Finally, we conclude our reports on the 2018 Thanet Chess Congress with a game from the winner and Kevin Thurlow's vote for the best game in the Open.  Congratulations to Adam Hunt (see left) for his victory in the Open, and perhaps his result alongside those of Alan Merry's for the last two years may inspire other titled players to take part next year in the 50th Thanet Chess Congress. As far as this writer is aware, it is the first time Adam has played at Thanet although as a once prolific junior it is possible he played some years ago. Here is his round 4 win over the current British U14 Champion of whom Adam said: "I would like to give particular credit to my young opponent, who defended with real composure playing with just the increment for the last 15 moves or so."  Thanks to Adam for his annotations.
White:   Ranesh Ratnesan (185)      Black:  IM Adam Hunt (226)
Kevin Thurlow thought that the following victory by Martin Taylor was especially impressive and that the approach shown by his opponent, Kevin Smyth, contributed to the game's entertainment value. In his words, "White tried to do something, which didn't work, but at least he gave it a go. And it was quite a pleasing combination at the end."  
White:   Kevin Smyth (165)      Black:  Martin Taylor (222)
So that's it for this year. We hope to see you all again in 2019 for the 50th Thanet Chess Congress – oh, have I mentioned that already?