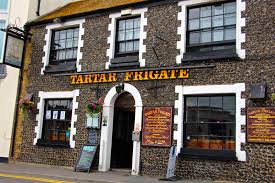 Christmas at Broadstairs Chess Club always means one thing: the annual Christmas Dinner. This is a tradition that has been going on for about twenty years and for most of that time the venue has been the Tartar Frigate overlooking the harbour. It is one of only a few 18th century flint pub/restaurants in Kent but it is not the oldest in Broadstairs as we found out in Michael Doyle's splendid quiz during the dinner. Alas, the official photographer neglected to take any photos of the evening itself so instead of a few boozy chess players, you can admire the venue above, strongly recommended if you fancy a cosy pint when you come down for the Thanet Chess Congress in the summer. As usual, it was an excellent evening, subsidised by the club (which always guarantees a good turnout) including the now traditional quiz comprising a mixture of chess and local questions e.g. which 19th century artist is buried in Birchington (and it's not Turner!)? When was Broadstairs Chess Club founded – an embarrassing question for your correspondent who could not remember even though it is featured at the top of our website; and which Broadstairs church was visited by the Archbishop of Canterbury recently? Congratulations to Tom Lovegrove and David Clifford, joint winners. Excellent food, drink, company and laughter: what more could you want?   The club closes for Christmas but re-opens on January 2nd.
Finally, here is a Christmas teaser for you: White to play and win in two moves. Looks easy, doesn't it? Surely, you are thinking, White plays 1.Qa1 with mate to follow on h8? But wait….what if Black castles?  Answers or requests for the solution via the Contact link above.
A very Happy Chessmas to our many loyal visitors from everyone at Broadstairs Chess Club.