Congratulations to David Faldon who has won the Goodall Cup for the club championship. It would be tempting so say that his victory was a foregone conclusion bearing in mind his run of success that goes back about ten years. However, this was definitely not the case. The club this year has been boosted by several strong players who took the competition to the wire. It says a great deal about a club when the championship which started last September was only decided just before 11.00 p.m on the final club night of the season in the middle of August. Of course, with such a large all-play-all competition it is not surprising that a few games were not played but there are plans to improve the playing arrangements next season while maintaining the all-play-all format which is considered essential by most members.
Along with David, the front runners throughout the season were Arnaud Wisman and Richard Clement. Richard enjoyed an excellent season, losing only to the aforementioned players to finish in third place. Arnaud and David, having drawn their game against each other, went into the final game neck and neck. David was to play Trefor Owens whom he had never beaten – Trefor only joined the club last year – while Arnaud had to play the dangerous  Shany Rezvany. Both knew each other well, having formerly been members of Bridge Chess Club. A win for Arnaud and David would mean the Goodall Cup would be shared while defeat for either would open the door for the other. Arnaud was always behind on time and when his promising position faded, Shany used his time sensibly and slowly a pawn advantage became two then three and the game was up. Meanwhile, David, who had been watching their game closely, still had to win his. Here is that crucial game. The opening and closing comments are by Trefor, the rest by David.
White:   David Faldon (178)    Black:  Trefor Owens (165)
Goodall Cup
David's conclusion: "Both Trefor and I played very well in this game. There were no huge mistakes I could spot, except for White missing 31.Qh5. White got a slight advantage in the opening, Black defended aggressively and well but then White found a couple of really difficult moves at exactly the right time."
Th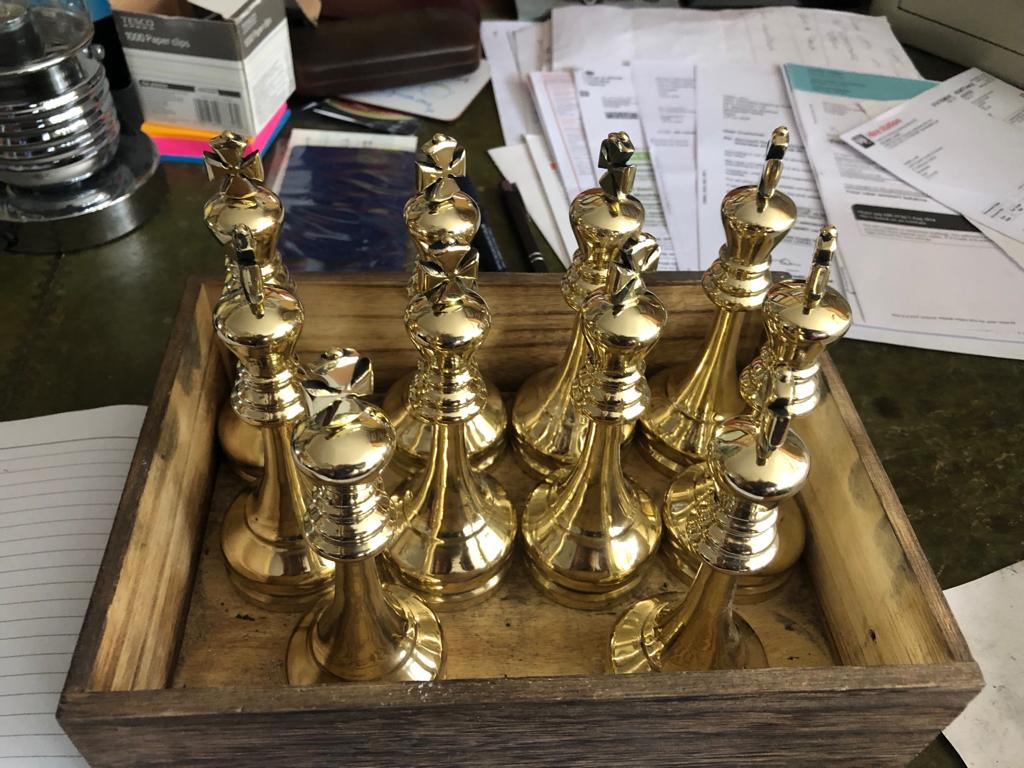 e 50th Thanet Chess Congress is almost upon us and on the left you can see the magnificent trophies made by John Couzens for the winners of the five sections (plus a few spares). These unique prizes are for the winners to keep so there will be some keen competition this weekend. They look rather like Oscars lined up before the annual Academy Awards ceremony, prompting them to be nicknamed 'Johnnies' after their creator. In addition to these special trophies, there is over £2300 in prize money, the title of SCCU Champion and Kent Individual Championship titles available. There is still time to apply so if you want to get your hands on a Johnny this weekend, you know what to do.