The Thanet Early Summer Swiss produced some really exciting chess this week, too much for just a simple game, so I have a puzzle for you as well.
This position was reached in the excellent game between Damma17 and Knightclubber, both played well with Damma17 (White) eventually coming out on top. In the diagrammed position White played Nc3 and had a strong position after Queens were traded.
Can you find another option?
White to Play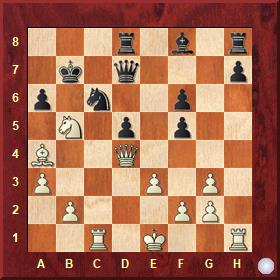 I have chosen, immodestly, the battle between myself and pm5 as Game of the Week. You nearly always get an exciting game with the Najdorf variation of the Sicilian and this game, I hope, is no exception.
 White:  TreforHo       Black:  pm5