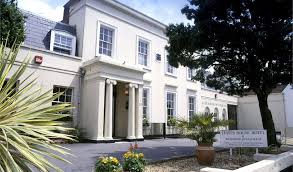 This fine building is the Lysses House Hotel in Fareham, venue for the 2018 Hampshire Chess Congress which took place last weekend. The High Street in which the hotel is situated is an impressive road with some imposing Georgian buildings which can only have been built by very wealthy businessmen, possibly important navy officials from nearby Portsmouth.   It is the first year the hotel has been used for this congress and the building has an interesting history. It was built in the early 1800s for Stephen Barney, a local solicitor whose main claim to fame was in his position as Recorder at the trial of the Mutiny of the Bounty and his portrait hangs in the entrance to the hotel.  The building remained in the Barney family until 1946 when it became an independent boys' school. It is now a 3-star  hotel and boasts 21 en-suite bedrooms and a selection of conference rooms to cater for up to 100 delegates.
As a chess congress venue, Lysses (pronounced 'Lizziz') definitely has charm. The games were played in small rooms and there was tea, coffee and biscuits available throughout the weekend for a small contribution. As some of the players were staying at the hotel, dinner on Saturday night was from 5.00-6.30 in order for it to be completed in time for Round 4 starting at 7.00. A sample menu was available to view on Saturday afternoon. The congress consisted of six rounds with three games on Saturday which is not to everyone's liking as suggested by the twenty or so byes taken for Round 4. Perhaps they were residents who favoured a more leisurely evening meal.
It was a pleasant surprise to see Kevin Thurlow as Arbiter with Karen assisting him, and I understand he has been controlling this congress for some years. There were three sections: Open, Major (U160) and Minor (U125). Not surprisingly, there was a large contingent of local players. Your correspondent managed to find some form at last and this is one of his better games. Black fell into severe time trouble and eventually resigned with only seconds left on the clock.
White:  Robert Page (144)      Black:  Jeremy Hudson (132)
 2018 Hampshire Chess Congress Major