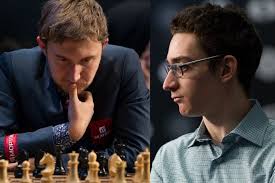 The Moscow Candidates Tournament concluded this afternoon with a fitting climax. By chance, Sergey Karjakin and Fabiano Caruana, the two leading players in this seemingly endless all-play-all competition, were drawn against each other in the final round to decide who would challenge Magnus Carlsen for the World Championship.
Your correspondent's choice from the start was Caruana, a solid player who does not lose very often and who has a good recent record against Karjakin in classical chess. Karjakin, though, had the advantage of the white pieces and the tie break rules dictated that if both players finished on the same score – which they would if the game were drawn – then after checking the results between the two players (they drew their first game), the second tie break decider would be the number of games won, which would favour Karjakin.  Victory for either player would win the tournament.
White:  Sergey Karjakin (2760)          Black: Fabiano Caruana (2794)
World Championship Candidates (Moscow) 2016  Game 14
 Black resigns
Congratulations to Sergey Karjakin whose inspired 37th move was worthy of winning any competition.  He now goes on to meet Carlsen in New York in a 12-game match in November where he may need a few more moments of inspiration like this one if he is to triumph.  After I had trumpeted the rise of the Chinese in recent months, a Russian (albeit Ukranian-born!) shows that they are not dead yet.