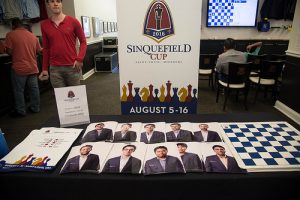 The latest stage in the Chess Grand Tour, the Sinquefield Cup, has been taking place in St Louis this past week featuring as usual ten of the strongest players in the world although minus Magnus Carlsen and Sergey Karjakin, busy preparing for their World Championship final in November. The format is a round-robin and players compete for $300,000 in prize money, with $75,000 for first place, and points toward the overall Grand Chess Tour. The problem with round robins involving such large sums of money – as we have found in the past – is that players tend to err on the side of caution and wins come at a premium: only nine out of 35 games played so far with three rounds ending entirely in draws. With only two rounds to go, Wesley So leads with 4½/7, perhaps largely because he is the only player to have won more than one game so far.   The upside of this is that with only one point separating the top eight players, the final two rounds may provide some exciting chess. It has been suggested that three points for a win in closed competitions might encourage more attacking chess. No Wei Yi for us to follow in this tournament so here is Ding Liren's only win so far.
White:    Ding Liren (2755)     Black:      Peter Svidler (2751)
Sinquefield Cup 2016
$75,000 will not be the first prize at next weekend's Thanet Chess Congress but that is no excuse for you not to enter.  There is still time to do so and if you have not been to Broadstairs in the summer, now is your opportunity. Unlike many venues, the Canterbury Christ Church University is clean and air-conditioned, the food in the canteen is delicious and well-priced, and it is a comfortable room to go through your games. If you are not chasing the money, why not take a bye and relax on the beach for an hour or two. As with last year, I shall be inviting players to send in any of their games they feel are worthy of a greater audience.  There is no 'best game' prize but we were sent some fine games last year and I hope we can receive the same this time. Games can either be sent via the 'contact us' page on this site (algebraic notation, please) or copies given to the controller during the Congress. It would be ideal if we could have examples from all four sections and I shall publish as many as possible soon afterwards. For more information on the Congress including entry forms and online registration, please go to www.thanetchess.org.uk.