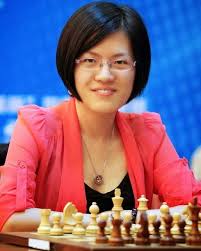 This is Hou Yifan.  She is 21, has an ELO grade of 2673, is number 68 in the world and has been a Grandmaster since she was fourteen, the youngest female chess player ever to have achieved the title. She is currently playing at the Tata Steel Masters Tournament in Amsterdam where she is, not surprisingly, the only female player among some of the giants of modern chess. She has the second lowest grade of the fourteen competitors yet after four rounds she shares second place on 2½/4 ahead of world number one, Magnus Carlsen (2/4), and Britain's strongest player, Michael Adams, who has made a wretched start and is currently last with 1/4 after two defeats.
Readers may think that I may have some vested interest in promoting Chinese chess after singing the praises of Wei Yi, Ding Liren and recently Yu Yangyi but my aim is merely to highlight the current strength of chess in China.  Wei Yi (on 2/4 at Tata Steel) is 16, Ding Liren (2½/4 and last year's runner-up behind Magnus Carlsen) is a comparative veteran at 23 and Yu Yangyi is 21.  Russia and the Soviet Union may have dominated world chess in the last century but it is China leading the way in this one. Here is Hou Yifan's swashbuckling win against world number 25 David Navara of the Czech Republic today.
White: Hou Yifan (2673)            Black: David Navara (2730)
Tata Steel Masters 2016
Black resigns
Leading the way after four rounds is world number 5, Fabiano Caruana with two wins and two draws from his four matches and many think he should have won against Anish Giri this afternoon. There is still plenty to play for – could there be a Chinese victory? You read it here first!