Nineteen players competed for the Open this year and while previous winners Alan Merry and Martin Taylor were the favourites before the start, there was competition from some strong juniors including Mikey Watson, last year's Kent Open Champion, and Edward Gray, who won the 2018 Challengers. Various players caught the eye. Partha Mulay, graded 182 scored 4/5 for a performance rating of 216. His only loss was to Taylor and he was fortunate to avoid Merry.  Gordon Botley, the only one of all the 1970 originals to play in the Open, scored a highly respectable 2½ points as did our own David Faldon, who had the misfortune to be drawn against Taylor in Round 1 for the second year running. Congratulations to Folkestone's Jim Bayford, who won the U185 grading prize with 3/5. On the top boards Merry had made his task of winning more difficult by taking a bye in Round 1. While he won his first three games to sit on 3½/4 going into the final round, Taylor had won all his games and led on 4/4. The gloves were off, the chips were down and it was pistols at dawn…or, at least, 2.30 in the afternoon (that's enough clichés, thank you – Ed). Here is the crucial deciding game with thanks again to Trefor Owens for his comments.
White:   IM Alan Merry (238)    Black:  FM Martin Taylor (220)
50th Thanet Congress (Open) Round 5
1-0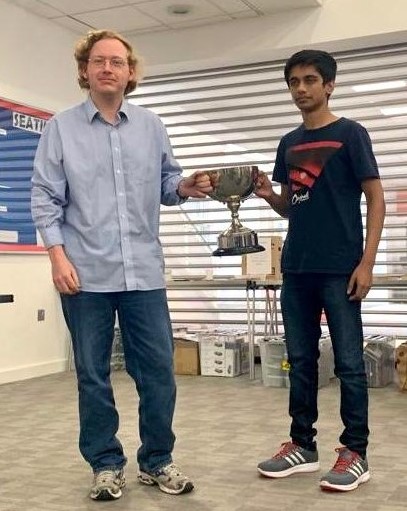 Martin Taylor, replying to Trefor's comments, added:
"As far as the annotations go, you've pretty much summed it up, but a couple of points:
Alan has a very wide repertoire and this was in fact the first time he has tried 1.e4 against me!
7… 0-0? is already a serious inaccuracy and 8.c5! is the correct punishment of it;
10…dxc5 11.dxc5 b6 is an improvement;
I saw 21…a6! 22.g4 Nb5 but underestimated its strength; after not playing it, I am toast."
It was not all doom and gloom for Taylor, however, who received the Kent Open Champion Trophy and shared the SCCU Individual Trophy with the impressive Partha Mulay (see photo).  Meanwhile, spare a thought for John  Anderson. Having won his first two games, he lost to Taylor in Round 3 only to be paired with Merry in Round 4. Thanks to David Faldon for his 'How Good is Your Chess' comments in the following game.
White:  John Anderson (200)   Black:  IM Alan Merry (238)  
50th Thanet Congress (Open) Round 4
0-1
That wraps up all the winning games at this year's congress. It was, of course, the 50th Thanet Congress and there was more going on than mere chess. There is a report on the special presentations on the congress website.