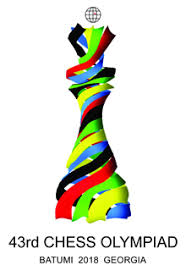 Welcome to Batumi! Where? I hear you ask. Well, as the official logo on the left makes clear, Batumi is in Georgia, the country's second city after the capital Tbilisi. It is on the Black Sea north of Turkey and is the venue for the 43rd Chess Olympiad which began on Monday and runs until October 5th as an 11-round Swiss tournament with just one rest day.  Forget the football world cup and the complaints over 32 teams, this is the big one with 183 countries taking part featuring 185 teams (Georgia is fielding three teams). And that's just the men's tournament….Running simultaneously is the women's competition featuring 151 teams from 149 countries. 749 female players are taking part and 919 men including almost all the top players in the world (although not Magnus Carlsen who is preparing for his forthcoming world championship match).
The England team, seeded 8 and consisting of Michael Adams, Luke McShane, David Howell, Gawain Jones and Nick Pert, made a reasonable start but came a cropper in Round 4 against a strong Azerbaijan team (seeded 4) who outgraded the England team on all four boards. For those of you familiar with Georgia but less so with England, here is a brief summary from the official Olympiad website: 'England, birthplace of Shakespeare and The Beatles, is a country in the British Isles bordering Scotland and Wales. The capital, London, on the River Thames, is home of Parliament, Big Ben and the 11th-century Tower of London.' So now you know.
The USA are favourites to win the men's competition and who can be surprised with Caruana, Nakamura, So and Sam Shankland, the current US Champion in their team. China are seeded 3 and we shall catch up with our honorary overseas Broadstairs member, Wei Yi, in a future post. Russia are the traditional favourites for the Olympiad but they have not made a strong start and lost to Poland (seeded 13) in Round 4. The crucial game was this loss by Vladimir Kramnik to the Polish no.4, Jacek Tomczak. In a fairly wild game, the position suggested a slight advantage to White until 26….Rd5? when the computer's analysis went from "White is slightly better' to 'White is winning' in one move.
White:  Jacek Tomczak (2614)      Black:  Vladimir Kramnik (2779)
 43rd Chess Olympiad (Batumi) Round 4