Today was another exciting day at The Opera Euro Rapid tournament
After 10 rounds Magnus Carlsen is leading, closely followed by most of the higher rated players. The 5 rounds to be played tomorrow will decide who qualifies for the knockout stages.
There is a group of players in danger of heading to the exit door, including Nakamura, Dubov, Duda and Grishuk so the remaining games will be full of fighting chess.
Here is an interesting position from today's game between Shankland and Aronian
Shankland (White) played Qa7+ and soon lost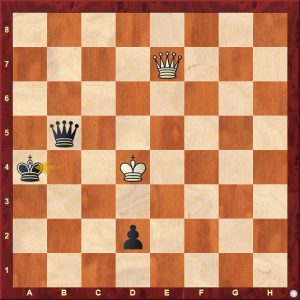 He did have a trick, which may have worked, especially in a Rapid game
Kc3  d1=Q  2. Qa3+  Kxa3 with stalemate