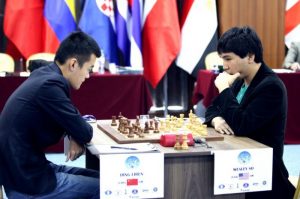 Regular visitors to this site may have noticed we have been unusually quiet about the FIDE World Cup currently taking place in Tbilisi and which is finally approaching its denouement. It's not for a lack of interest, more a lack of time. So what have we missed? Well, there was 'shortsgate' right at the start – if you are still in the dark, try Googling 'shorts' and 'chess world cup' and it should lead you somewhere – then there was the swift elimination of most of the top English players, Carlsen (who, had he won, may have had to play against himself to challenge for the world title), Caruana and, much to the chagrin of this correspondent, Wei Yi. With a total prize fund of $1.6m with $120,000 for the winner and 128 of the best players in the world taking part, there were still enough of the big guns left, however, to maintain interest and so far as this site is concerned, we are championing another of our Chinese friends, Ding Liren, especially as he was the underdog in the semi-finals where he played Wesley So while Maxim Vachier Lagrave played Lev Aronian in the other game.
The format for the competition was two classical games and if the scores were then level, the players then played two 25-minute + 10-second increment rapid games, then two 10+10 games, then two 5+3 and, finally, Armageddon, where White has 5 minutes to Black's 4 but a draw qualifies Black for the next round.  The semi-finals were hard-fought and the Liren-So match went to the second 10-minute game although the first of those was the decisive one.
White: Wesley So  (2792)     Black: Ding Liren (2771)
FIDE World Cup 2017
And so Ding Liren is in the final! The other semi-final went to the wire. After two classical games, two 25-minute games, two 10-minute games and two 5-minute games MVL and Aronian could not be separated and so we were faced with the chess equivalent of a penalty shoot-out: Armageddon! MVL apparently won the toss and chose Black which meant he only had to draw. Aronian had the extra minute but had to win.
White: Lev Aronian  (2802)     Black: Maxim Vachier Lagrave (2804)
FIDE World Cup 2017 semi-final 
MVL had his chances and the computer had him ahead at one point but it is Lev Aronian who will play Ding Liren in the final and who would bet against an Aronian win? Is he the best player in the world now? Time will tell.