The new season is under way and with it a few surprising features agreed at the AGM. The main surprise was the decision to change the time control for the club championship from the traditional 36 moves in 90 minutes and then all remaining moves in a fifteen-minute quickplay finish to the more forward-looking and increasingly popular Fischer time. This is used at most top level tournaments now and weekend congresses are beginning to adopt it including the Thanet Congress which has done so for the past few years. For the uninitiated, Fischer time stipulates that all moves are to be completed in a set time but with the addition of an fixed increment per move. In the Thanet Congress the time control is all moves in 90 minutes with a 30 second increment per move. It was used for one season at the club a few years ago but was then scrapped because all league competitions kept to quickplay finishes and the majority of members preferred to have one system for consistency. It was not a unanimous decision to reinstate it but so far it seems to be working well. The one bone of contention is that it was decided to play all moves in 60 rather than 90 minutes with a 30 second increment. The reason for this was a worry that games might go on beyond our allotted time in the club although this was not a problem last time.  However, time will tell.
The other innovation which, to be fair, is hardly an innovation at all but it is for Broadstairs, was the decision to timetable the club championship games. This is probably something that most clubs have always done but Broadstairs, while leading the way in Thanet for new ideas and progressive thinking, is also quite laid back in many ways and its approach to the the club championship reflected this. Games were always arranged between individuals, some of whom were more pro-active than others in doing this with the result that in recent years, especially as numbers have increased, several games were not completed by the end of the season.
Last year there were 20 players in the Goodall Cup – this year there are 22. It was agreed that adding specific dates to the club fixture list – in effect, creating 21 rounds for the competition – everyone would know when they had a Goodall game to play, the pairings would be pre-set in a round-robin format that you can download easily, and no-one need worry about arranging fixtures as they are already done. Two rounds have been played so far and while there have been a few postponements, players have been quick to re-arrange games at the earliest opportunity. Keen observers can keep up to date with the results and indeed all the Thanet chess news by going to the excellent ECF LMS site here.
It has been suggested that there should be a Game of the Round but we already have Game of the Week which might well come from the club championship. Instead, I prefer to call this 'A Game of the Round' which implies it is not claiming to be a masterpiece but it's one that at least one of the players thinks is worth a second look. In this case it is David Faldon who suggested putting this game, the first in his defence of the title, on the site. His opponent, your correspondent, thought otherwise but then I would because I lost.
White:  Robert Page (133)   Black:  David Faldon (178)  
Goodall Cup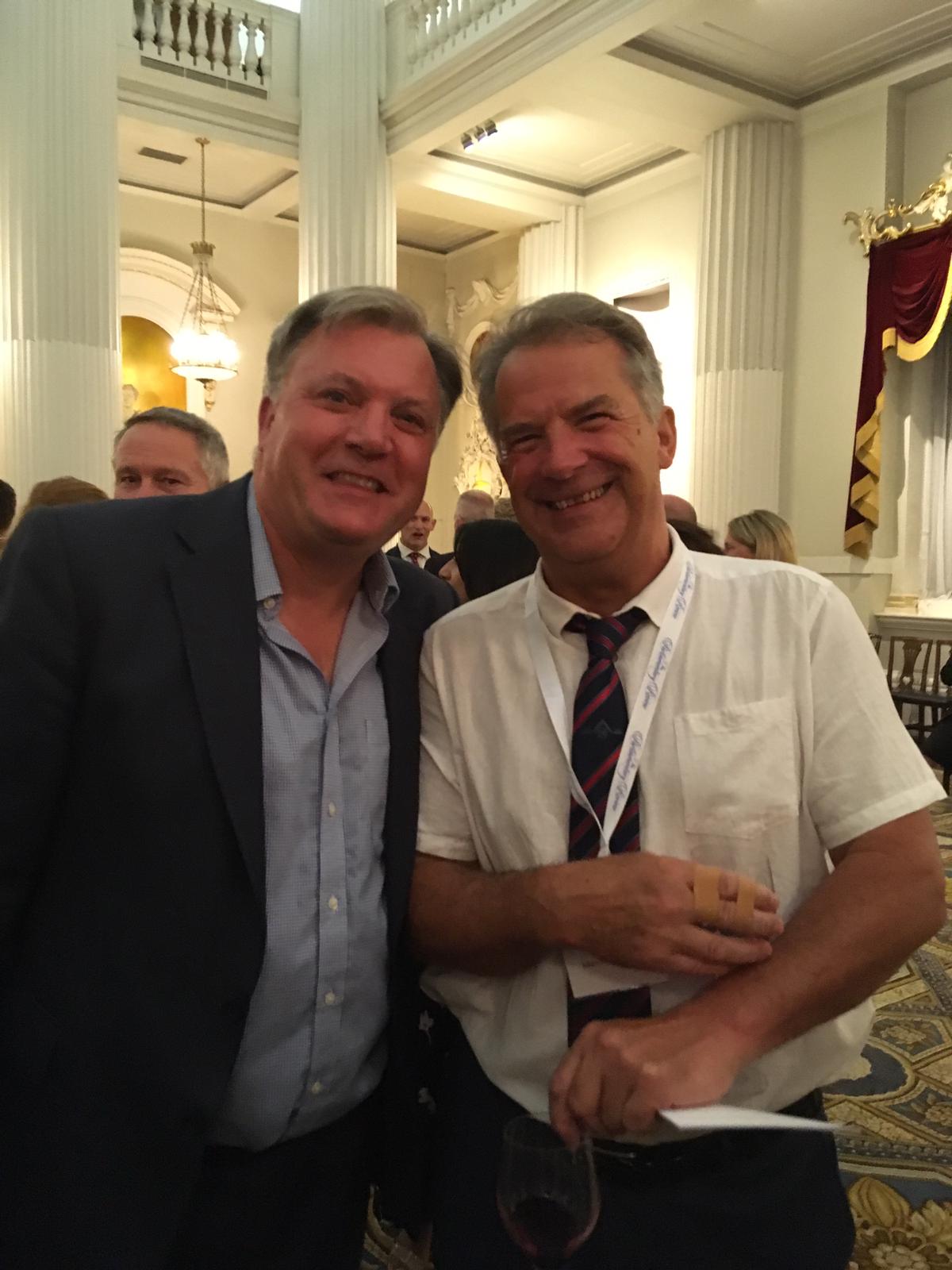 Congratulations to John Couzens who was asked to contribute to the 2019 edition of the Parliamentary Review which is an independent publication that aims to share best practice among policy makers and business leaders.  As a result of this, John was invited to their annual gala in London where he rubbed shoulders with the good, the bad and the…er…others. Here he is with the ex-Gangnam practioner, ex-Norwich City chairman and ex-Shadow Chancellor, Ed Balls. The photo is crying out for a caption competition so I'll start the Balls rolling…
"If you mention Boris Johnson once more, John, I'll break the rest of your fingers."