There are only fourteen days until the 50th Thanet Chess Congress and things are hotting up. Numbers currently stand at 89 which is a pretty healthy position at this stage. With it being the fiftieth congress, there are some special prizes as everyone must know by now and this latest photograph shows where we are with them.  John says: "Ten kings in the rough ready for polishing. Should get them back mid next week ready to fit mahogany bases."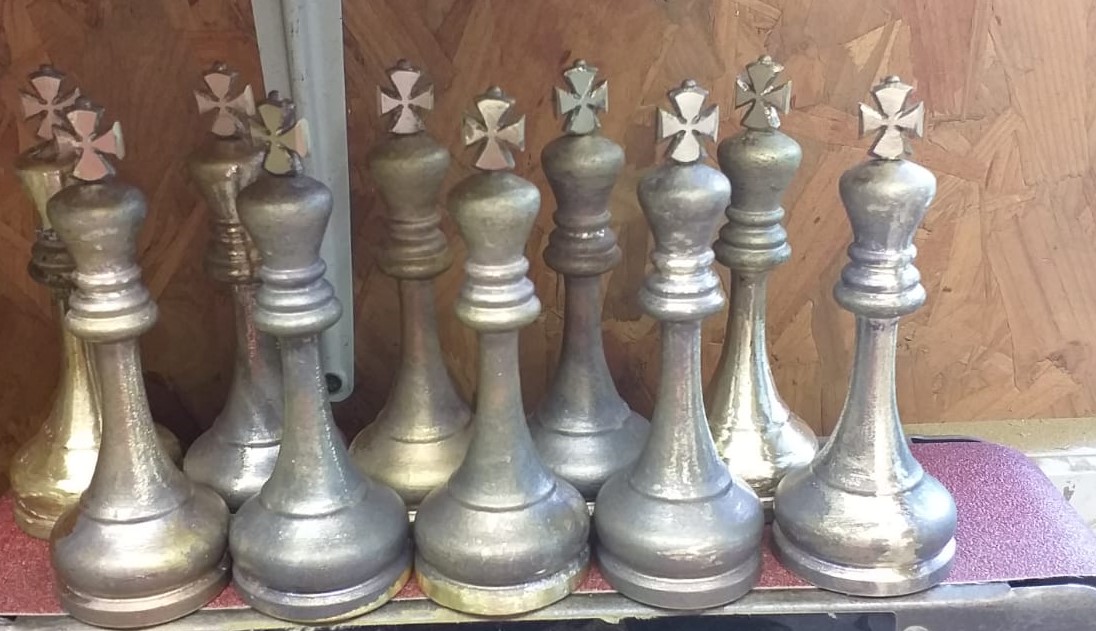 David Faldon warmed up for the congress by taking part in the U2050 section of the British Championship which this year is being held in Torquay. His tournament consisted of five games, one each afternoon and after losing his first game, David recovered to finish on a respectable 3/5. His only loss was to a typical young whippersnapper that you are likely to come up across at the British. The boy is currently graded 152 but last year he was 129 and the year before that 107. By next year he may have overtaken David. We shall have to wait to find out the last time David lost to a player graded 152 or below – surely, it couldn't have been your humble editor, could it?!
Meanwhile, we should offer a belated 'well done' to Trefor Owens who finished second in the Tunbridge Wells Major in June. Victory in his final game would have made him the outright winner but he could only draw with his opponent who began the round half a point ahead. Trefor had no complaints about his draw, however:  "I was happy to come second. Actually my final round opponent and the winner (of the Major), David Heath, is a really nice guy and was also my opponent when I played my very first competitive game, I think in 1974 when I was 15." In this photo Trefor is about to unleash a devastating move against his Round 4 opponent, Geoffrey Bishop.
With three wins and two draws, Trefor can be pleased with his performance. Here is his Round 2 win with his own comments.
White:   Trefor Owens (156)    Black:  Chris Hann (146)
Tunbridge Wells Major 2019