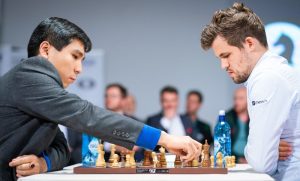 After an exciting week of chess we have reached the Final of the Opera Euro Rapid competition. World Champion Magnus Carlsen defeated MVL in a very thrilling and topsy turvy semi-final. Magnus showed both extremes of live rapid chess by playing brilliantly one game and dropping pieces in the next.
In the position below it is Magnus (White) to move, most of us would play Re1 or Rf3 protecting the Bishop on e3. Magnus actually played Qd3?? and resigned on the spot. At least we can be assured that no engines are being used in this competition!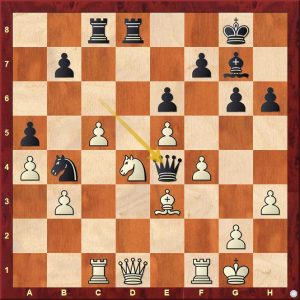 His opponent in the Final is Wesley So, who played excellent chess to beat Teimour Radjabov. Wesley's play is well suited to rapid chess as he can switch between ultra solid and very aggressive, a perfect combination when playing Carlsen.
Interestingly in the very first game of the Opera Tournament a week ago, Wesley So defeated Magnus Carlsen. Will history repeat itself in the final?